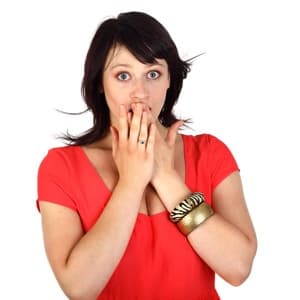 Hiccups lend themselves to home remedies. For one thing, they are usually time limited and go away on their own. But to speed them on their way, home remedies can often be useful. And there is no shortage of options to choose from! Nearly everyone has a favorite.
Q. My mother taught me an easy trick for hiccups that always works for me.
Get a glass full of water and bend forward from the waist into a right angle. Start drinking the water as you slowly rise up until the glass is empty when you are standing fully upright again.
This always works for me and others I've told about it.
A. Your mother's remedy sounds similar to another time-honored hiccup remedy: drinking water from the far side of the glass. You have to bend over to manage this.
You may want to watch our video demonstration of another hiccup-fighting technique: drinking water while an accomplice applies gentle pressure to the tragus (the little flaps at the front of your ears).
Synchronized Sipping
Another reader recommends:
"I am a retired teacher and this is what I taught my students to do to stop hiccups. It worked every time.

"A hiccup is a spasm of the diaphragm in your chest. If you happen to be swallowing at the time of the spasm, you counteract it. So note the amount of time between hiccups and just before another hiccup is due, start taking continuous small sips of water.

"If you don't happen to be swallowing when another hiccup occurs, wait and try again. It may take a time or two, but as soon as you can swallow when the hiccup is happening, the hiccups stop."
A Spoonful of Sugar
Another popular remedy is to swallow a teaspoonful of dry granulated sugar. This is nearly as widely available as a glass of water and seems to work just as well. Doctors often recommend it; there was even a small study published long ago in The New England Journal of Medicine (Dec. 23, 1971).
In it, the physician in charge had 20 study subjects who had been suffering with hiccups for several hours (in some cases, several days) swallow a teaspoonful of ordinary white sugar. This remedy worked in 19 of the 20.
The researcher did not have a placebo arm for this study, so we don't know how much the volunteers' expectation of benefit may have contributed to the results. But there is no reason not to put that same expectation to work for the next person you encounter who can't stop hiccupping.
1/28/19 redirected to: https://www.peoplespharmacy.com/articles/do-you-need-help-for-hiccup-cure/