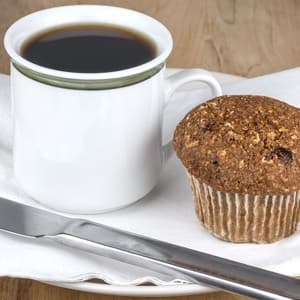 The Case of the Bran Muffin Breakfast:
Breakfast is hardly the usual suspect in a medical mystery. Yet the case of the bran muffins could have led to tragedy were it not for psychiatric sleuthing. The story begins with a 42-year-old woman suffering her fifth severe depression in a decade. The four previous episodes had all responded well to an antidepressant called desipramine (Norpramin), so her psychiatrist couldn't understand why the drug wasn't working this time. Despite three weeks of treatment, the patient was still in the pits of despair.
A test showed too little of the medicine in her bloodstream to do any good. Yet she was adamant that she was taking the full dose–the same dose that had worked so well before.
Trying to Combat Constipation Led to Trouble:
Further questioning revealed that she was eating only bran muffins for breakfast and lunch in an effort to fight constipation, a common side effect of the antidepressant. The fiber in the bran had interfered with the absorption of the antidepressant. Once she changed this diet, her medication went to work and the depression lifted.
The Impact of Food:
The impact of food on medicine's effectiveness often goes unappreciated. It just isn't obvious that the menu chosen or the beverage used to wash the pill down could make the difference between success or treatment failure.
Many drugs aren't absorbed adequately when swallowed with food. Levels of the blood pressure medicine captopril (Capoten) are reduced 30 to 40 percent when it is taken with a meal. Antibiotics are especially vulnerable. Tetracycline, used to treat serious infections including life-threatening Rocky Mountain spotted fever, is rendered inactive if it is taken with calcium in any form. That includes vitamin/mineral supplements, antacids, dairy products and calcium-fortified orange juice.
One reader complained that it was inconvenient to avoid milk at breakfast when he swallowed ciprofloxacin (Cipro) for an ear infection. He wondered if it really mattered if he put milk in his coffee or had his usual oatmeal with milk. The answer is YES! In one study, blood levels of Cipro were 70 percent lower in volunteers who took it with milk. Yogurt reduced Cipro absorption by an amazing 92 percent!
Thyroid Hormone and Breakfast:
Levothyroxine (Levoxyl, Synthroid) is also susceptible to the impact of food or supplements. Iron pills and calcium in any form can really reduce its absorption. Even coffee can cut down on the amount of thyroid hormone that gets into the bloodstream to do its work (Thyroid, March, 2008). Many people take fiber such as bran or psyllium (Metamucil, etc.) at breakfast to encourage regularity, but taking it at the same time as levothyroxine can block absorption significantly.
Grapefruit Juice and Medications:
Another morning favorite, grapefruit juice, may also affect some medicines. The transplant drug cyclosporine (Neoral, Sandimmune) is dramatically enhanced if taken with this citrus beverage. Some blood pressure drugs such as felodipine (Plendil) and nifedipine (Procardia) are also affected. There are dozens of other medications that can be affected by grapefruit or grapefruit juice including atorvastatin, lovastatin and simvastatin to lower cholesterol.
Clopidogrel (Plavix) interacts in the opposite direction: the drug is less effective when taken with grapefruit juice (Therapeutics and Clinical Risk Management, Mar. 19, 2015). That is presumably due to the effects of grapefruit juice on the transporting compound, OATP (Journal of Clinical Pharmacology, Dec., 2015).
One reader offered this question about the impact of food:
Risky Breakfast Choices:
Q. My husband takes captopril for high blood pressure and warfarin to prevent a heart attack. I am on digoxin (Lanoxin) for my heart. We take our medicines at breakfast with half a grapefruit and a bowl of oatmeal and bran. A friend told us that grapefruit interacts with some drugs. Would it be better to eat the grapefruit at lunch?
A. We don't want to alarm you, but your situation is complex and has the potential for trouble. For one thing, captopril (Capoten) is most effective when swallowed on an empty stomach (one hour before meals or two hours later). Digoxin may not be absorbed as well if it is taken with high-fiber cereal like oatmeal and bran.
Grapefruit (juice or whole) has been shown to affect a number of drugs including felodipine (Plendil),nifedipine (Procardia) and caffeine. There is suspicion that it also increases blood levels of warfarin. If your doctor has been monitoring your progress frequently, however, this interaction may not pose a problem.
Eating grapefruit or drinking juice at lunch instead of breakfast will not solve the problem. The effect from the grapefruit lasts all day long.
More Information About Grapefruit Interactions:
If you would like to know more about how grapefruit affects your medicine, you may wish to download our Graedons' Guide To Grapefruit Interactions.
If you would like our FREE guide to Drug and Food Interactions, click here.
While you are in the shopping cart, though, why not take a moment to browse some of our other publications. You will find a FREE guide to Drug and Nutrient Interactions. You can also learn about some of our most popular books, radio shows and products.
Most people hate to read manuals. Plug and play is the rule of the day. This may be okay for a DVR or even a computer game, but overlooking the little stickers on your prescription bottle could be disastrous. Ask your doctor and your pharmacist how to take your medicine and learn about the impact of food on your medications. Find out which beverages to avoid and which foods might be dangerous with your drugs. And stay informed with The People's Pharmacy!