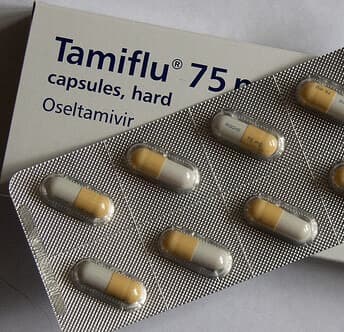 The CDC has made it official. The flu is back! Preliminary reports suggest that it could be a bad year for influenza. The CDC has reported higher case reports than usual at this time of year. At the moment the south seems hardest hit, but other regions are not far behind. Australia is six months ahead of us when it comes to flu. We can expect a rough winter ahead. That's because the Aussies really suffered this year. Will an oral medicine like oseltamivir (Tamiflu) help?
The 2017 Australian Experience
According to a perspective in the New England Journal of Medicine (Nov. 29, 2017):
"As clinicians in the United States prepare for the start of another influenza season, experts have been watching the Southern Hemisphere winter for hints of what might be in store for us in the North. Reports from Australia have caused mounting concern, with record-high numbers of laboratory-confirmed influenza notifications and outbreaks and higher-than-average numbers of hospitalizations and deaths…

"Influenza A (H3N2) viruses predominated, and the preliminary estimate of vaccine effectiveness against influenza A (H3N2) was only 10%. The implications for the Northern Hemisphere are not clear, but it is of note that the vaccine for this upcoming season has the same composition as that used in the Southern Hemisphere."
How Would You Know if it's the Flu?
Researchers refer to colds and flu as upper respiratory infections (URIs). That's because the viruses invade the nose, sinuses, throat and often the lungs. Distinguishing between a bad cold and the flu is not easy without sophisticated testing.
One general rule is that influenza hits harder and faster than a cold. Symptoms often get bad within hours instead of days. A temperature of 100 degrees F is not uncommon. People complain of body aches, chills, headache, sore throat and nasal congestion. Some describe the flu like being hit by a truck.
What Else Can You Do Against the Flu?
You have no doubt seen commercials for cough medicine and multi-symptom cold and flu medicine. There are lots of OTC products promising to soothe your stuffy nose, sore throat, sneezes, coughs, body aches, fever and headache.
Consumer Reports (January, 2018) recommends caution with multisymptom flu remedies:
"Stick to single-ingredient products as much as possible. Multisymptom ones may seem efficient, but the more drugs included, the greater the risk of side effects."
What About Tamiflu (Oseltamivir)?
A visitor to our website encouraged us to mention Tamiflu for influenza:
Q. Please remind your readers that there is an effective anti-flu medicine, Tamiflu. Two days ago, I noticed a sore throat coming on, and before long I was sniffling, sneezing, coughing and feeling terrible. I had a fever and went to bed, though I couldn't sleep well.
I was in bad shape yesterday, when I realized this might be more than just a cold. Even though I got a flu shot two months ago, I suspected influenza.
I went into my medicine chest and found some Tamiflu from a year ago that I had not used. By the time I'd taken the second tablet at the end of the day, I was feeling better and I actually slept all night. The flu shot didn't protect me but the Tamiflu made an almost immediate difference. Why isn't this medicine better known?
A. This year's flu shot may not be as effective as people would hope. Australia experiences influenza outbreaks six months ahead of North America. Their data suggest that the flu virus has mutated; the vaccine had low effectiveness.
Oseltamivir (Tamiflu) is an oral pill that blocks viral replication. As a result, your immune system is better able to fight off the infection.
We have never understood why many health professionals seem resistant to the idea of antiviral flu medicines. Long before Tamiflu, amantadine was shown to be effective against type A influenza. It never caught on, however.
A Doctor Spanks Us!
We received an intriguing message from a physician who responded to the prior paragraph:
"Why do you lie so much Graedon? It appears you hate and envy doctors, PA's and NP's. You snidely stated 'We have never understood why health professionals seem resistant to the idea of antiviral flu medicines.'

"As a retired family physician I and many colleagues prescribed Tamiflu when appropriate, based on free, legitimate guidelines, and not your profit driven 'guidelines.'  If anything some providers over use this antiviral (as some do with antibiotics) for colds, etc. or offer it after 3 days of clinical influenza illness, when it has been shown to have minimal to no benefit.

"You should stick to promoting alternative garbage like Dr. Oz and other con artists, ignoring science based evidence but quote weak or poorly done 'studies.'  Like Oz and Trump you became rich and famous by misinforming the gullible.

"Some of your info is practical, some is science based, but much is anecdotal or based on poor scientific protocols. Like physicians who abuse or misuse or misrepresent some medicines for profit, you should be ashamed."
The People's Pharmacy Response:
Ouch! That was harsh. We're not sure what Dr. C. means by "your profit driven guidelines." We offer no guidelines and we certainly do not make a profit from Tamiflu. We take no money from the pharmaceutical industry and we do not sell drugs (prescription or OTC).
What About Amantadine (Symmetrel)?
We have been writing about oral antiviral medicines against the flu for 35 years. In 1983 we wrote:
"One of the biggest scandals of American medicine is the failure of the profession to recognize the benefits of Symmetrel (amantadine). This extraordinary anti-viral agent is widely used in the Soviet Union and studies in this country have repeatedly proven that it is highly effective in preventing or treating the flu.

"A recent study published in the New England Journal of Medicine has confirmed that over 90 percent of the people taking Symmetrel didn't get type A influenza. This rate of success is significantly higher than that seen with vaccinations."

"An editorial in the New England Journal of Medicine (Sept. 2, 1982) stated quite unequivocally that 'in an epidemic of influenza, amantadine (Symmetrel) would be indicated for many persons.'"
Another oral influenza medicine, rimantadine (Flumadine), also generated little enthusiasm from health professionals. A study by Dolin, et al. in the New England Journal of Medicine (Sept. 2, 1982) reported on a placebo-controlled study of both drugs:
"At the doses employed in the trial (200 mg per day for six weeks), both rimantadine and amantadine were highly effective in preventing influenza-like illness, with reductions in the rates of illness of 65 per cent and 78 per cent, respectively, as compared with placebo. The effects were even more striking when reductions in the rates of laboratory-documented influenza were analyzed, with efficacy rates of 85 per cent for rimantadine and 91 per cent for amantadine."
The editorial we referred to in our 1983 newspaper column published in the New England Journal of Medicine concluded:
"It is clear from the study of Dolin et al. and from the previous literature that amantadine is a highly effective prophylactic agent against several strains of influenza. This has been a consistent finding over 15 years of research with a number of different influenza A viruses belonging to the H2N2, H3N2, and H1N1 subtypes. Similar data are available on the therapeutic use of amantadine."

"Thus, in an epidemic of influenza, amantadine would be indicated for many persons…in the winter months when the Centers for Disease Control or state or local health departments report influenza A activity in or near the region, a patient with acute onset of fever, chills, headache, and cough can be presumed to have influenza and treated accordingly."
Amatadine and Rimantadine Side Effects:
One of the drawbacks of the old antiviral meds was their side effect profile. Amantadine could cause dizziness, dry mouth, hallucinations, low blood pressure upon standing, nausea, insomnia, nightmares, depression, headache, irritability and confusion. Such side effects understandably discouraged many doctors from prescribing the drug.
Rimantadine was better tolerated, but it too could cause digestive upset, nausea, insomnia, anxiety and dizziness. Of course influenza can also cause a lot of serious side effects, so there is a trade off in that regard.
Tamiflu (Oseltamivir) Side Effects:
The most common adverse reactions associated with Tamiflu also include digestive upset (nausea, vomiting and diarrhea). Headache is another potential complication. There have been reports of severe skin reactions and suicidal thoughts or actions. The latter case reports have mostly come from Japan.
People's Pharmacy Perspective:
Influenza is a serious illness, especially type A flu like the H3N2 strain that is currently circulating. This kind of influenza can be life threatening, especially in older people who may be more vulnerable. This year the vaccine may only be effective about 10 percent of the time. Oral antiviral meds appear to be far more effective in preventing the flu.
Once someone comes down with influenza, about the only thing that can really speed healing is an antiviral medicine. It is true that the drug has to be taken within 48 hours of the onset of symptoms to be maximally effective. Here is what the CDC has to say about Tamiflu:
"Antiviral medications with activity against influenza viruses are an important adjunct to influenza vaccine in the control of influenza.
• Influenza antiviral prescription drugs can be used to treat influenza or to prevent influenza.
• Five licensed prescription influenza antiviral agents are available in the United States.

Three influenza antiviral medications approved by the U.S. Food and Drug Administration (FDA) are recommended for use in the United States during the 2016-2017 influenza season: oral oseltamivir (available as a generic version or under the trade name Tamiflu®), inhaled zanamivir (trade name Relenza®), and intravenous peramivir (trade name Rapivab®). These drugs are chemically related antiviral medications known as neuraminidase inhibitors that have activity against both influenza A and B viruses. Generic oseltamivir was approved by the FDA in August and became available in December of 2016."
Share your own thoughts about the influenza vaccine or antiviral medicines below in the comment section. Perhaps you share Dr. C.'s perspective. If so, we would like to hear from you.