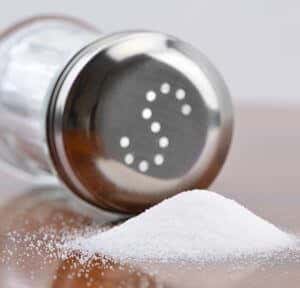 About six million Americans have heart failure, a condition in which the heart no longer pumps blood efficiently. This is not a heart attack, though once someone has a heart attack, she may be more susceptible to heart failure. Symptoms may include shortness of breath, swelling in the feet and legs, fatigue or weakness and cough while lying down. Here are just a few people who have died from heart failure: Elizabeth Taylor, Salvador Dali, Danny Thomas, George Carlin and Marlon Brando. One of the most fundamental recommendations for treating this potentially deadly disorder: salt restriction for heart failure. Is this pillar of treatment justified? A study published in The Lancet (April 2, 2022) suggests that it is not beneficial.
The American Heart Association (AHA) on Salt Restriction for Heart Failure:
The AHA is adamant that Americans should reduce their sodium consumption to less than 1,500 mg of sodium per day.
As far as the AHA is concerned, there is no middle ground on this controversial topic:
"The science behind sodium reduction is clear. Significant evidence links excess sodium intake with high blood pressure, which increases the risk of heart attack, stroke and heart failure.

"While some newer research questions the link between sodium and health problems, the connection is well-established. The newer research adds to a larger discussion that has evolved over the last few years about salt intake but does not replace the existing evidence."
The AHA maintains that research questioning the value of salt restriction for heart failure is "flawed." We wonder what the organization will say about the latest study published in The Lancet (April 2, 2022).
Doctors Question the Validity of Salt Restriction for Heart Failure:
Physicians are admonished to practice "evidence-based medicine." Most are convinced that they are doing just that. It means that they rely on high-quality research to make decisions about treatment. But there is surprisingly little research on something as fundamental as salt restriction for heart failure. The AHA would have you believe otherwise, but here are the results of the SODIUM-HF clinical trial. "HF" stands for heart failure. First, let us tell you what this study was all about.
The authors explain the reason to conduct such research:
"Dietary recommendations have been provided to patients with heart disease for over 100 years, but very few of the recommendations have been based on evidence from randomised clinical trials."
The investigators recruited 806 participants with clearly diagnosed chronic heart failure. These patients were from six countries: Australia, Canada, Chile, Colombia, Mexico and New Zealand. Roughly half (397) were randomly assigned to a low-salt diet (less than 1,500 mg of sodium daily). The other half (409) received "usual care."
An editorial in The Lancet (April 2, 2022) that accompanies the research offers a comment on the motivation for the study:
"…does restriction of dietary sodium restriction have a clinically meaningful effect in patients with heart failure? "

"The SODIUM-HF trial was designed to test this hypothesis."
And the envelope please:
The editorialist sums up the results this way:
"The primary outcome was the composite of cardiovascular-related hospitalisation, cardiovascular related emergency department visits, or all-cause death within 12 months after randomisation. At 12 months, there were no significant differences between the two groups in the primary outcome…"

"The authors concluded that, in ambulatory patients with heart failure, a dietary intervention to reduce sodium intake did not reduce clinical events."
The ultimate "clinical event" is death. In this study, 22 people in the low-sodium group died (6%) vs 17 in the usual care group (4%). That is probably not the outcome the AHA expected when it comes to salt restriction for heart failure. I suspect that this organization will find some flaws with the study and try to discredit the findings.
Here is what the authors say when it comes to the value of their study:
"To our knowledge, our study is the largest randomised clinical trial to test a strategy of dietary sodium reduction for patients with heart failure to date. We found that dietary sodium reduction (to a target of <1500 mg/day) in patients with heart failure did not reduce the clinical composite outcome of all-cause mortality, cardiovascular-related hospitalisation, or cardiovascular-related emergency department visits compared with usual care over 12 months."
Not the First Challenge to the AHA's Salt Restriction for Heart Failure:
We are always impressed when physicians admit that there is a lack of evidence for a highly recommended practice. A prior review of research on the benefits of drastic salt control revealed surprisingly little evidence to support the recommendation of salt restriction for heart failure (JAMA Internal Medicine, online Nov. 5, 2018).
Out of 2500 studies on heart failure, only 9 were randomized controlled trials looking at how sodium intake affects outcomes. Restricting sodium did not make an obvious difference in heart attacks, strokes or death.
The authors introduce their review this way:
"Despite advances in diagnosis and management, the prevalence of heart failure is increasing. Recent estimates suggest that more than 26 million people are affected worldwide, including inpatients and outpatients…

"Advice to reduce salt intake is recommended in several international cardiovascular guidelines."

"However, restriction of salt intake has uncertain efficacy. Observational studies have shown potential benefits and harms, whereas some randomized clinical trials (RCTs) have suggested harms. A previous systematic review and meta-analysis concluded that a low-salt diet, compared with normal salt intake, significantly increased morbidity and mortality in individuals with heart failure."
Stop! Please hit your internal pause button. Did that last sentence sink in? Is it possible that a very low-sodium diet could actually have bad outcomes? Here is a link to an article about low-sodium and hypertension that has "man-bites-dog" overtones.
The authors of the review in JAMA Internal Medicine conclude:
"To our knowledge, this systematic review represents the most up-to-date and comprehensive analysis of current evidence of the effects of reduced salt intake in patients with heart failure. Despite identifying 9 RCTs involving a total of 479 participants, we found no robust high-quality evidence.

"We found no clinically relevant data on whether reduced dietary salt intake affected outcomes such as cardiovascular-associated or all-cause mortality, cardiovascular-associated events, hospitalization, or length of hospital stay."
What to Make of Salt Restriction for Heart Failure?
For something that is so ingrained in medical practice it is hard to believe that there is inadequate evidence to support the recommendation.
An accompanying editorial in JAMA Internal Medicine notes:
"It is incredulous that in our evidence-based era, we have accepted such a low bar for this particular bedrock recommendation of cardiovascular care.

"…A practical solution might be a shift away from sodium restriction per se and more toward a DASH (Dietary Approaches to Stop Hypertension)-like diet in heart failure.
The physician who wrote the editorial cautions his colleagues:
"Before we persist with unyielding recommendations for aggressive sodium restriction at significant costs for uncertain benefits and unknown harm, do the trials."
In other words, let's have some evidence!
Now we have the evidence. The Sodium-HF clinical trial suggests that the old sodium restriction recommendations were built on shifting sand. Of course, we always encourage our readers to check with their health professional before changing any behavior. No one should ever start or stop a medication without discussion with the prescriber. In the event that your doctor or dietician is unaware of this research, we suggest providing them with the link so that they can read the study for themselves.
JAMA Internal Medicine, online Nov. 5, 2018
Editorial in JAMA Internal Medicine, online Nov. 5, 2018
Final Words:
Are you surprised that the evidence on salt restriction for heart failure has been woefully inadequate? What do you think about the latest Sodium-HF clinical trial? Share your thoughts in the comment section below.
A small favor please. Google has made it virtually impossible for people to find our articles on the web. If you find our independent voice worthwhile, please send this article to friends and family via email, Twitter or Facebook. There are icons at the top of the page to make it easy.
You can also encourage your contacts to consider subscribing to our FREE electronic newsletter. Subscribers get regular notifications of our posts and our weekly podcast. Here is a link to help people subscribe. Thank you for supporting our work.