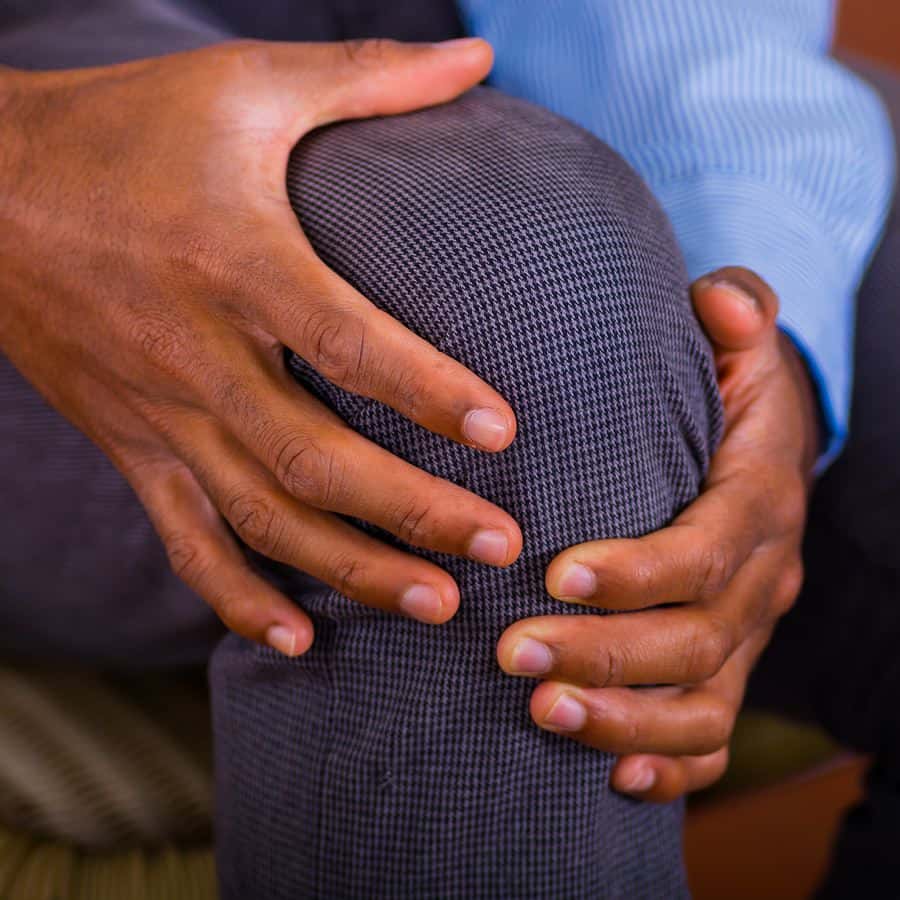 Tens of millions of Americans take nonsteroidal anti-inflammatory drugs (NSAIDs) like ibuprofen, naproxen, celecoxib, diclofenac and meloxicam to ease joint pain. A friend used to call ibuprofen "vitamin I" because he took it so regularly. That could pose a problem for people with knee pain. A new study presented at the annual meeting of the Radiological Society of North America suggests that when people rely upon NSAIDs for osteoarthritis of the knees they may be doing damage to their joints.
NSAIDS Are Prescribed in BIG Numbers!
Doctors prescribe NSAIDs for osteoarthritis in huge numbers. At last count, nearly 30 million people are taking prescribed drugs like celecoxib, diclofenac, ibuprofen, meloxicam and naproxen each year. That does not include OTC ibuprofen (Advil, Motrin IB, etc) or naproxen (Aleve).
We don't worry very much about short-term use of such drugs for a headache or an ankle sprain. It is the regular daily use for osteoarthritis that concerns us. It is estimated that 1 in 4 adults has arthritis. That equals tens of millions of people. Most health care professionals choose nonsteroidal anti-inflammatory drugs to ease their pain.
What's the Problem with NSAIDs for Osteoarthritis?
NSAIDs work…to relieve pain. That's the good news. The bad news, according to a new study presented at the annual meeting of the Radiological Society of North America (RSNA), is that NSAIDs can make actually make inflammation worse in knee joints.
There has been a surprising lack of long-term research to determine the effect of NSAIDs for osteoarthritis on joint health. The new study presented at this year's RSNA meeting provides some worrisome data. Researchers in the Department of Radiology and Biomedical Imaging at the University of California, San Francisco (UCSF) examined the effect of NSAIDs on synovitis in the knee.
The synovial membrane is critical to healthy joint function. This soft connective tissue lines the joints and produces synovial fluid. That is the lubricant that allows bones to move comfortably without friction. It is also critical for healthy cartilage. Synovitis of the knee occurs when the synovial membrane becomes inflamed or swollen. As you can imagine, that is not a good thing!
NSAIDs and Synovitis:
"Synovitis mediates development and progression of osteoarthritis and may be a therapeutic target. Therefore, the goal of our study was to analyze whether NSAID treatment influences the development or progression of synovitis and to investigate whether cartilage imaging biomarkers, which reflect changes in osteoarthritis, are impacted by NSAID treatment."
The UCSF investigators recruited 277 volunteers with osteoarthritis of the knee who had been taking NSAIDs for at least a year. The control group of 793 individuals were not taking these anti-inflammatory drugs. Both groups had MRI scans of their knees at the start of the study. Four years later they had another set of MRI scans.
After four years, those who had been taking NSAIDs were in worse shape than the control group. They had less cartilage and more inflammation based on the MRI images. The patients taking NSAIDs for osteoarthritis in their knees had more signs of synovitis than the people not taking NSAIDs.
The lead author, Dr. Johanna Luitjens, was surprised by the outcome. She and her team thought NSAIDs would reduce inflammation and synovitis. Instead, they saw more joint degeneration and thinner cartilage among users of NSAIDs for osteoarthritis.
She offers these two possibilities:
"On the one hand, the anti-inflammatory effect that normally comes from NSAIDs may not effectively prevent synovitis, with progressive degenerative change resulting in worsening of synovitis over time. On the other hand, patients who have synovitis and are taking pain-relieving medications may be physically more active due to pain relief, which could potentially lead to worsening of synovitis, although we adjusted for physical activity in our model."
What Does This Research Mean?
It is astonishing that we are just now learning about this potentially negative impact of long-term NSAID use on joint tissue. It is a bit reminiscent of cortisone-type drugs.
In the 1950s medications like cortisone, dexamethasone, prednisolone and prednisone were considered miracle medicines for people with rheumatoid arthritis. It took many years before physicians realized that these corticosteroids could cause high blood pressure, ulcers, arrhythmias, osteoporosis, glaucoma, cataracts and diabetes.
When nonsteroidal anti-inflammatory drugs arrived on the scene, doctors thought they were a substantially safer option than cortisone-like steroidal drugs. The FDA considered ibuprofen and naproxen so safe, in fact, that it gave drug companies the green light to sell them over the counter.
It has taken decades to appreciate the potential complications of NSAIDs. You can read about the history of corticosteroids and NSAIDs at this link.
     NSAID Side Effects:
Digestive tract upset, stomach pain, nausea, bleeding ulcers, perforated ulcers
Heart attack, stroke, cardiac arrest
Irregular heart rhythms (A-fib)
Fluid retention, Heart failure
High blood pressure
Dizziness, unsteadiness, spaciness
Kidney damage, liver damage,
Skin rash and other dermatological reactions
Ringing in the ears
Asthma, breathing problems, allergic reactions
Changes in vision
I know your eyes glaze over as you read a long list of side effects. Just pause a moment, though, and note  problems such as heart attacks, strokes, hypertension, kidney damage and arrhythmias. They are not trivial adverse reactions.
Discovering that a new problem associated with NSAIDs for osteoarthritis of the knees might be increasing damage to joint tissue just makes the whole thing messier. The bottom line seems to be that nonsteroidal anti-inflammatory drugs should be used cautiously by patients with osteoarthritis, especially over the long term.
If you are interested in other approaches to inflammation, you may find our eGuide to Alternatives for Arthritis of interest. It can be found under the Health eGuides tab of this website. If you are a book person, you can find the 104 page booklet in the store at this link. It is currently discounted during our Black Friday/Cyber Monday sale.