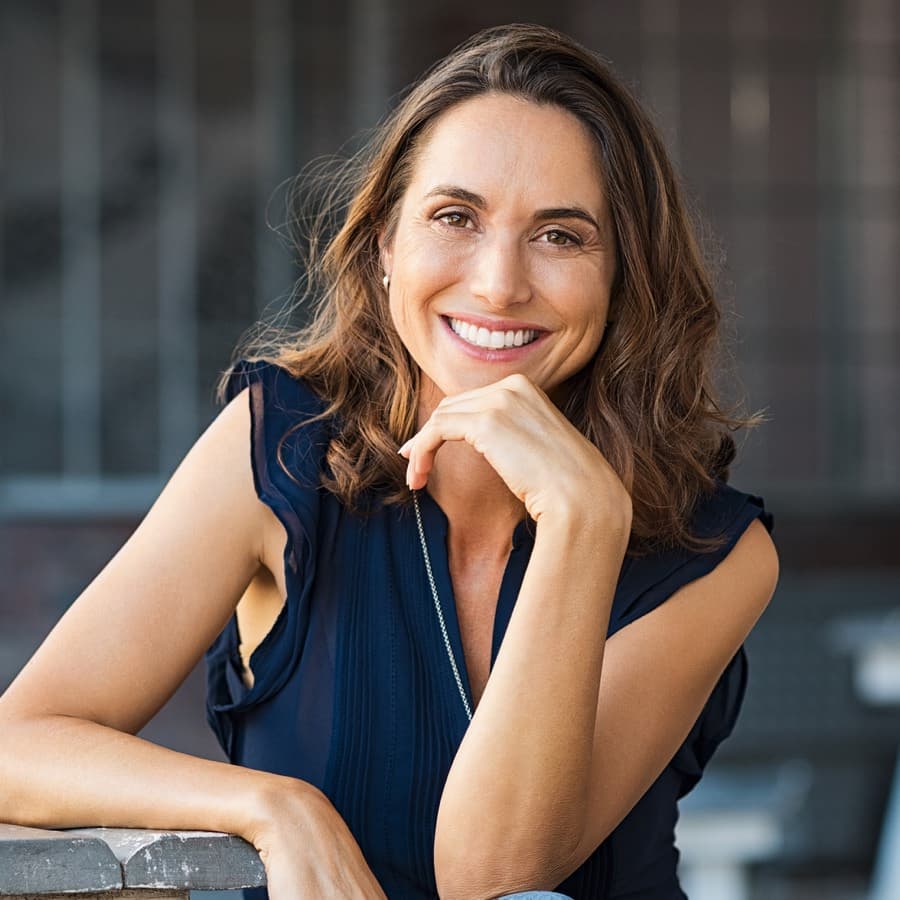 Portrait of beautiful mature woman sitting at coffee shop. Happy hispanic smiling woman sitting on a bench in outdoor cafeteria looking at camera. Portrait of carefree woman relaxing on bench.
Have you ever smiled at a stranger and received a smile in return? It inevitably makes you feel good. Everyone loves a smile. It disarms us and makes us feel warm and fuzzy about the person smiling. But there are times when a smile is totally inappropriate. For example, you would not smile if a friend told you about a scary diagnosis. How about cancer? That is why it is so unsettling to see people smiling during drug commercials for potent cancer medications.
Why Are People Smiling During Drug Commercials for Verzenio?
There is an advertisement for a new medicine to treat metastatic breast cancer. Verzenio (abemaciclib) is promoted as
"an everyday treatment for a relentless disease."
When the announcer starts rapidly listing the side effects, we see women enjoying delightful family time. Here, watch the commercial for yourself at this link. There are at least two dozen smiles during the following recitals:
"Diarrhea is common, may be severe and may cause dehydration or infection. Before taking Verzenio, tell your doctor if you have fever, chills or other signs of infection.

"Verzenio may cause low white blood cell counts, which may cause serious infection that can lead to death.

"Serious liver problems can occur. Symptoms may include tiredness, loss of appetite, stomach pain and bleeding or bruising more easily than normal.

"Blood clots that can lead to death have also occurred. Talk to your doctor right away if you notice pain or swelling in your arms or legs, shortness of breath, chest pain or rapid breathing or heart rate.

"Tell your doctor if you are pregnant, breastfeeding or planning to become pregnant.

"Common side effects include nausea, infections, low red and white blood cells and platelets, decreased appetite, headache, abdominal pain, tiredness, vomiting and hair thinning or loss."
Here's another Verzenio commercial. How many smiles can you count?
Side Effects And Drug Commercials:
The FDA requires drug companies to list serious side effects during commercials. They do the same thing in magazine ads.
We are not complaining about the requirement to inform the public about dangerous adverse reactions. Most people realize that drugs to treat cancer often have very serious side effects. We think it is important for people to be well informed about toxicity before they are told to ask their doctors to prescribe drugs they see advertised on TV.
The Problem with Smiling During Drug Commercials
We are outraged by the way pharmaceutical companies have attempted to distract viewers from the dangers of the drugs that are being advertised. We suspect that the industry has figured out successful strategies to overcome scary words.
We object to the way in which these adverse reactions are presented. The rapid voice-over coupled with images of people having fun divert attention from the seriousness of the potential side effects. The frequent smiles take the sting out of the bad news.
These commercials are very sophisticated. In a few seconds an appealing story unfolds. We learn about people who are suffering from severe conditions like cancer, Crohn's disease, diabetes, psoriasis, rheumatoid arthritis or goodness knows what else.
Trelegy: "The Power of 1-2-3"
A less serious condition than cancer is COPD (chronic obstructive pulmonary disease). Don't get us wrong. COPD is very serious. The CDC says 16 million Americans have this chronic lung condtion (CDC's COPD stats). It is the third leading cause of death after heart disease and cancer if you don't count deaths from medications. In other words, COPD is no laughing (or smiling) matter.
A commercial for the inhaled medicine Trelegy (fluticasone furoate, umeclidinium and vilanterol) also shows people smiling. The catchy jingle featuring 1-2-3 is reminiscent of the number one hit in 1970 by the Jackson 5.
Don't tell me you can't remember this tune! It is unforgettable. Once it gets inside your head you will not be able to get it out. Here is a link to Dick Clark and the Best of Bandstand with the Jackson 5 singing "ABC" to refresh your memory.
The COPD commercial uses the catchy "Trelegy 1-2-3" jingle to drive home the message. Here, take a look at this commercial and see what you think:
Go back and watch again and see how many smiles you can count while cautions or warnings are mentioned. We caught at least 10. How many did you see?
Smiling During Drug Commercials Distracts:
Once again, the warnings and side effects are read while people on the screen are having a great time. There's a birthday party, a walk in the park with dogs, and a pleasant backyard scene with a paper airplane flying.
For people to really understand the potential risks of highly promoted prescription medications, the FDA should not allow ads to be so distracting. In an ideal world, side effects would run in print on the screen without any appealing images while the voice-over is read.
Fighting Back Against the Distractions:
Until the FDA changes the rules, however, we suggest closing your eyes during drug ads. That way you can better focus on the important information rather than the amusing diversions that currently steal the scene.
If you have your eyes open and spot a smile, pay extra-close attention to the words. Chances are, the advertiser is trying to distract you.
Reader Responses:
Many of the visitors to our website find prescription drug commercials annoying. In response to our post: Are TV Commercials Pushing People To Take Too Many Pills?
We received this comment:
Pat points out something important:
"Have you also ever noticed the pleasant, light-hearted music playing in the background while the folks in the commercial are dancing and laughing, even when the overvoice is talking about 'fatal events'?"
Speaking of light-hearted music and a catchy jingle, check out this Ozempic TV commercial. Don't forget to count the smiles during the warning phase of the commercial.
D.C. in Seattle notes that the bottom line is a powerful motivator:
"I find only one positive aspect to the irritating prescription drug commercials. If people stopped to really listen all the way through, they would learn about the many negative side effects, including death.

"Hopefully that will motivate people to really think before taking a drug. People should do their own research whenever a physician writes a new prescription. All we see on television are the expensive name brand drugs that in many cases insurance won't even cover."
Revealing the Cost of Prescription Drugs:
There is a new proposal from Health and Human Services (HHS). Under this plan the pharmaceutical industry would have to include the cost of the medicine being advertised in the television commercials. Not surprisingly, drug companies are not thrilled with this idea. You can read more about this concept at this link:
What Do You Think?
Share your own feelings about prescription drug commercials on TV in the comment section below. Do you find that the constant smiling during drug commercials is misleading, especially when the announcer is describing side effects like liver damage, heart attacks or death?