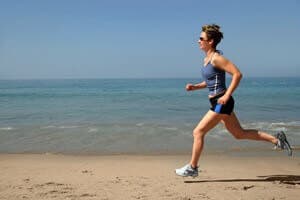 There are a couple of health problems that everyone dreads. A diagnosis of cancer is most unwelcome. Neurological conditions run a close second, though. If a doctor diagnoses Parkinson's disease, ALS (aka Lou Gehrig's disease), the patient has a right to be frightened. Equally devastating is a diagnosis of dementia. Can exercise improve cognitive function and perhaps delay the onset of dementia? In other words, might exercise save your brain? A new study suggests the answer could be yes.
Lace Up Your Sneakers to Have Exercise Save Your Brain:
In a study published in the journal Neurology (online Dec. 19, 2018), 160 volunteers with an average age of 65 tested the benefits of aerobic exercise, a DASH diet, a combination of the two, or health education sessions. The participants had cognitive impairments but no dementia when the study began. They completed cognitive tests to assess their executive function–the ability to plan, organize and make judgments.
Those who exercised for 45 minutes three times a week for six months made significant gains in tests of executive function. Adding the vegetable-rich DASH diet to the exercise helped even more. The improvement was the mental equivalent of dropping nine years from their age. That's pretty impressive.
The volunteers assigned to health education sessions had worse scores on their executive function tests at the end of the six months than when they started. There are no drugs to ward off cognitive decline, but walking, jogging or cycling may be the best medicine for maintaining brain function as we age.
How Much Exercise Do You Need?
This is not the first research to demonstrate how you can use exercise to protect your brain. A study of three dozen healthy adults showed that even ten minutes of moderate physical activity can have measurable benefits for the brain (PNAS, Sept. 24, 2018).
Ten Minutes of Motion to Boost Your Brain:
The scientists used high-resolution functional magnetic resonance imaging to look at the volunteers' brain activity before and after short exercise sessions. They found that after the workouts, the subjects' brains had changed somewhat. They showed stronger connections between the hippocampal dentate gyrus and parts of the cerebral cortex that are important for processing memory. Consequently, the researchers are excited about this evidence that exercise improves the function of the hippocampus, which is a crucial area for memory.
Fit Kids Have Fit Brains:
Previous research has shown links between physical fitness and cognitive skills in young people. Moderate exercise even helps kids think better for several hours.
Another study showed a link between fitness and brain structure (Frontiers in Human Neuroscience, Aug. 19, 2014). Brain scans of 24 youngsters nine to ten years old showed that those who were more fit had more white matter integrity, hinting that their brains might have better connectivity. That could, in theory, help them with memory and learning.
The research didn't actually show whether exercise boosts brainpower or being sedentary saps it. For that, investigators will have to conduct controlled trials of structured physical activity at recess and after school.
Remember Grandma's admonition in the old days was "Go out and play!" It seems that far too few kids actually get that opportunity these days. This research suggests we should find ways to make it far easier for kids (and their parents and grandparents) to get aerobic exercise. Even a little bit can help.