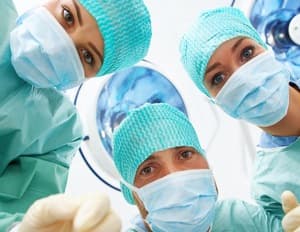 My father died as a result of a missed diagnosis. He was in the coronary intensive care unit at a teaching hospital in upstate NY after suffering a heart attack at his home. He was treated in a timely manner at an outside hospital with streptokinase to dissolve any clots, then transferred to the teaching hospital for angiography to determine what further action to take.
While waiting for the cardiac surgeon to review the test results, and while on anticoagulants, my father developed knee swelling and sciatica-like pain in the same leg where the angiography had been performed. He was treated for days with narcotic pain killers for sciatica, which only succeeded in making him constipated.
No one noticed that he was bleeding massively into his retroperitoneum from his angiocath site. Twice-daily lab results demonstrating the blood loss were ignored. Six days after the angiogram, while straining on a bedside commode, he had another cardiac event.
Hours later, an attending physician finally saw the lab evidence of massive blood loss and transfusions were ordered, but inexplicably they were not administered until many hours later, when his heart muscle was already irretrievably damaged. He went into cardiac arrest and died the day before he had been scheduled to go home.
My mother and sister arrived at the hospital for their regular afternoon visit, only to find the staff doing CPR on my father. The physicians told her he was sicker than they thought. The discharge summary was filled with lies about what had happened as they tried to cover up their mistakes. It was the nurses' notes along with the timed and dated lab results that told the real story.
How do I know this? Because I am a physician and I requested the chart. Most families will never find out about diagnostic errors. They will be lied to and have no way to find out the truth. Unless, of course, they sue. Often that is the only recourse for patients and families who feel they have suffered medical malpractice. Their hands are forced because of the "white coat conspiracy" to keep the truth from being known.
I used to think that doctors were the innocent victims of ambulance-chasing attorneys and litigious patients. I now realize that physicians have also contributed to any malpractice crisis that exists, because as a group they cover up mistakes all the time.
My father never got to benefit from the bypass surgery that had been scheduled for two weeks later. He had just turned 70, and had just applied for Social Security benefits after working his entire life. He never saw the first check.
V.E.C.
PEOPLE'S PHARMACY RESPONSE:
Dear Dr. V.E.C.
Your tragic story strikes a painful and powerful chord for us. Joe's mother Helen went into one of the country's best teaching hospitals over 16 years ago for a "routine" angiogram. The cardiologists were going to check out the arteries in her heart to see if there was a problem.
Given that she was 92 years old, it was not surprising when they discovered that one artery did indeed have some blockage, which they opened with angioplasty. By 5:00 pm that evening she was looking great, feeling wonderful and looking forward to going home the next day. At 92 she was still sharp as a tack and fully engaged with life.
Tragically, that night, after she had fallen asleep, a resident injected two drugs into her IV line. One was Demerol (meperidine) and the other was Phenergan (promethazine). [Her medical chart said she was to receive NO opioid pain medicine because of severe sensitivity to such drugs. Meperidine should never have been administered! Joe even told the night nurse on her floor about this emphatically a few hours earlier.]
The meperidine interacted with another medicine she was taking to cause serotonin syndrome. When she called Joe to say she had been poisoned in the early morning hours and to "come quick," the tragedy was already well underway. Her body was thrashing uncontrollably. Although the nurses had tied her legs to the foot of the bed, she could not stop the convulsive leg movements.
Just as with your father, the site where they had inserted the catheter had begun to bleed into her body (retroperitoneum). The next morning she fell on the way to the bathroom and died shortly thereafter. The death certificate stated that Helen Graedon's death was caused by "cardiac arrest" due to "hypotension" (low blood pressure) as a consequence of "retroperitoneal hemorrhage" (internal bleeding).
From your account above, it seems as if your father and Joe's mother died because of a very similar situation. In your father's case, it was in large part because of a missed diagnosis. In Helen's case, it was precipitated by a deadly drug interaction that caused her legs to contract uncontrollably for hours, leading to internal bleeding and low blood pressure that was not detected.
Like you, we received no clear explanation of what had happened and how it had happened. We had to ask probing questions and review the chart to discover for ourselves the various mistakes that had been made, and there were many. Although we have tried for the last 37 years to protect others from dangerous drug interactions and medical mistakes, we could not protect Joe's mother from such a fate. It remains a source of frustration and pain to this day. As you so poignantly point out, most families will never learn about diagnostic mistakes.
David Newman-Toker, MD, PhD, is a neurologist at Johns Hopkins. He has studied the problem of diagnostic errors over the last few years and has determined that this one problem accounts for at least 150,000 deaths and/or serious harm to patients each year. His research suggests that diagnostic errors are "the most frequent, most severe, and most costly of medical mistakes" in malpractice cases that result in payments to patients and families.
That's why we wrote Top Screwups Doctors Make and How to Avoid Them. We have tried to provide tips and tools to patients and health professionals to help reduce the number of mistakes that are made every day in this country, both in hospitals and in the outpatient setting. We must end the epidemic of errors that is one of the leading causes of death in this country and we must end the "white coat conspiracy" and code of silence you wrote about so that we can start to fix the problem. Until then, however, patients need to be vigilant, expect mistakes and diagnostic errors, and protect themselves from the kinds of tragedies that took your father and Joe's mother.
We invite other readers (patients, family members and health professionals) to share their stories below: