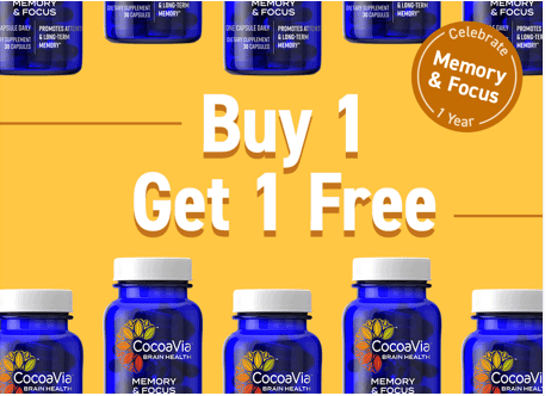 June is Brain Health Month, which is great timing because CocoaViaTM is also celebrating 1 year since the launch of Memory & Focus – its first and only formula with a unique blend of ingredients for Brain Health. Memory & Focus supports 5 areas of brain performance including complex attention, visual memory, executive cognitive function, word recall and long-term memory. Designed with Cocoapro+™ Proprietary Botanical Blend, clinically proven Lutein and 50mg of naturally sourced caffeine, the formula is a special blend of ingredients that work together to promote attention and support long-term memory – all in just one powerful capsule per serving. Curious about how it all comes together? Here's a spotlight on each ingredient and how they work:
Cocoapro+™ Proprietary Botanical Blend:
This unique blend contains the same clinically proven Cocoapro™ cocoa extract found in all CocoaVia™ products which supports healthy blood flow to the brain. The cocoa flavanols in combination with bioactive flavanol (-)-epicatechin in Memory & Focus work together to promote brain performance.
Made from marigold flower extract, lutein is clinically proven to support cognitive health, including visual memory, and is widely known to promote eye health. It helps protect visual health by filtering blue light from electronics and daily screen use.
Naturally-sourced Caffeine
Each 1 capsule serving contains 50 mg of caffeine, the same as ½ cup of coffee or 1 cup of tea, to give you an added boost to your day.
Don't Miss This Sale:
So, whether you're thinking ahead and looking to support cognitive function for the future you, or you're looking to stay sharp to manage the busy demands of your day to day, try incorporating CocoaVia's Memory & Focus into your daily supplement routine.
For a limited time only, from May 28th through June 3rd, don't miss out on an amazing deal – Buy One Memory & Focus, Get One Free (that's 50% savings)! Just add both products to the cart and use discount code MFBOGO at check-out on cocoavia.com.