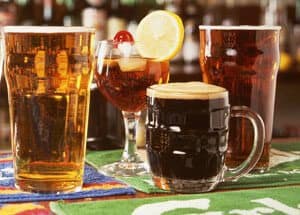 It can take years for the FDA to recognize a drug interaction problem. That's because there is no organized system for anticipating or testing potentially dangerous drug combinations.
Alcohol and Chantix and Aggression
Two years after the stop-smoking drug Chantix (varenicline) was marketed in 2006, we began hearing from readers of this column that alcohol might pose a problem with this medication. The first story came from a woman in England:
"I live in the U.K. On Christmas Eve my boyfriend had been using Champix [Chantix] for some months. He was drinking and went berserk for no reason, assaulted me and destroyed my apartment.

"I fled and waited in an ambulance for the police to come. They found him unconscious from taking an overdose of paracetamol [acetaminophen]. He survived but I have ended the relationship and pressed charges.

"As far as I know he has no past mental health problems or history of violence. Could Champix have contributed to his frightening behavior?"
In the UK, Chantix is sold as Champix. At that time there was no warning about an interaction with alcohol, although the FDA had received reports of "suicidal thoughts and aggressive and erratic behavior in patients who have taken Chantix."
Other Reports of Trouble with this Combination
Since then we have received other reports about frightening behavior linked to alcohol consumption by someone taking Chantix. Here is what one reader said:
"Last night my boyfriend became so violent I was afraid he was going to hit my 22-year-old daughter or me.

"He threatened to burn down our home and he tried to kick me out. I just realized that he started changing in the last two weeks right after he started taking Chantix to quit smoking.

"
I read on your website about possible violence and aggression from a combination of Chantix and alcohol. My boyfriend drinks beer. As soon as he gets home from work I'll tell him to stop taking Chantix. There needs to be a warning about this drug."
FDA Issues a Warning
Seven years after we brought this possible interaction to the attention of the FDA, the agency has acted. It has issued a safety announcement:
"The U.S. Food and Drug Administration (FDA) is warning that the prescription smoking cessation medicine Chantix (varenicline) can change the way people react to alcohol…

"We reviewed the case series submitted by Pfizer, the manufacturer of Chantix, as well as the cases in the FDA Adverse Event Reporting System (FAERS) database describing patients who drank alcohol during treatment with Chantix and experienced adverse reactions. Some patients experienced decreased tolerance to alcohol, including increased drunkenness, unusual or aggressive behavior, or they had no memory of things that happened (see Data Summary)."
The communication concludes, "We urge health care professionals and patients to report side effects involving Chantix to the FDA MedWatch program…"
It is good that the FDA has recognized, investigated and acknowledged this potentially dangerous interaction. We are concerned that many people may have unwittingly gotten themselves into trouble over the last nine years by combining alcohol and Chantix. We can only wonder how many other drug interactions that are causing people difficulties are still undiscovered.