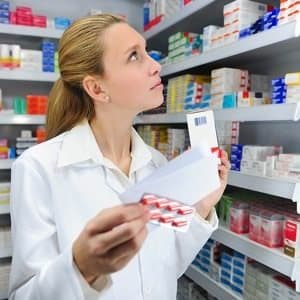 Dennis Miller, R.Ph. is a retired chain store pharmacist. His book, The Shocking Truth About Pharmacy: A Pharmacist Reveals All the Disturbing Secrets, can be downloaded in its entirety at Amazon for 99 cents.
The main criteria by which customers evaluate their phar­macists seems to be the speed with which they fill prescriptions, along with their personality, and whether they pro­vide helpful advice and answer questions in a meaning­ful way.
A Culture of Speed:
Many pharmacy customers consider speed in filling pre­scriptions to be number one in importance. Unfortunately, chain drug store corporate bosses typically think the same way. This places tremendous pressure on pharmacists to fill prescriptions at dangerous speeds, thus jeopardizing the public safety.
My employer once used a stopwatch to evaluate pharmacists' speed
Several years ago, I worked for the Revco chain which was later sold to CVS. Our bosses once subjected pharmacists to what many describe as the most demeaning experience in their lives since they graduated from pharmacy school. It was described to us as a contest to see which stores were most closely following company guidelines. It was, in fact, a productivity test.
I don't know whether this productivity test was carried out chainwide or just in some regions. Supervisors came around to each store with a clipboard and a list of proce­dures to see whether we were in adherence.
One of the parameters checked was the time it took phar­macists to fill each prescription. Incredibly, each supervi­sor had a stopwatch. The supervisor reset the stopwatch with each prescription. When the pharmacist first touched the prescription, the supervisor started the stopwatch. When the pharmacist finally put the medication in the bag, the stopwatch was stopped. Other metrics checked were things like how many times the phone rang before the pharmacist answered and whether or not the pharma­cist returned to any calls on hold every 30 seconds to tell the caller the status of his/her call.
What happened in the store where I worked was quite in­teresting and alarming. The other pharmacist who worked in that store was so distressed by the experience of being timed by a stopwatch that he made a major error. He inadvertently dispensed the antibiotic doxycycline 100 mg to one of our customers instead of the antidepressant dox­epin 100 mg.
Let me emphasize that this so-called contest was held on actual prescriptions for actual customers in the middle of an actual business day. It was not held at some special contest site. The chain had the nerve to subject us to this extremely stressful indignity as if it were no more disrup­tive of our work routine than a wart on our back.
Enough pharmacists eventually complained so vocifer­ously that management was forced to drop the part of the "contest" involving the stopwatch. But the rest of this productivity test remained in subsequent stores.
Pharmacists or Fast-Food Workers?
In my opinion, the fact that the Revco chain had the nerve to conduct this productivity test is an indication of the powerlessness of chain pharmacists, the wage-labor na­ture of our job, and the fact that pharmacy is now less a profession and more a hamburger assembly line at a fast food outlet. Like most workers in America today, pharmacists are pieceworkers who are closely monitored by productivity metrics.
As far as I know, this productivity test was not repeated at Revco stores in subsequent years. I have never heard of such a test being held at other chains. But, to me, it clearly indicates the extreme importance that chain drug store corporate management places on speed. That should con­cern you a lot.
My district supervisor claimed that he could moni­tor pharmacists' speed from the parking lot
One day my district supervisor told me that he sometimes sits in his car in the parking lot adjacent to each of the twenty drug stores in his district. He told me that he mon­itors how long it takes the pharmacy staff to fill prescrip­tions.
I didn't immediately realize it, but clearly my district su­pervisor was lying to me. There was no way that he had any idea regarding which customers were patronizing the drug store to fill prescriptions and which ones were there simply to buy a cough syrup, decongestant, laxative, hemorrhoidal ointment, acne cream, toothpaste, shampoo, deodorant, suntan lo­tion, etc.
For those customers who actually had prescriptions to be filled, he had no way of knowing how many prescriptions they had. He had no way of knowing whether the prescrip­tions were new or refills. (New prescriptions typi­cally take significantly longer than refills.) He had no way of know­ing whether there was a problem with a cus­tomer's insurance. He had no way of knowing how many prescriptions were ahead of that customer. He had no way of knowing if one or more of our technicians were on a break or off sick for the day. He had no way of knowing the speed and com­petence of the techs on duty at that time.
In short, he had no way of knowing anything by simply sit­ting in his car in the parking lot and observing the amount of time customers spent in the store. So he clearly was ly­ing to me. I guess I assumed that a district supervisor would not be so blatantly dishonest with me or that he would think that I was too stupid to figure out he was ly­ing.
But my district supervisor did succeed in making me acutely aware of the fact that speed in filling prescriptions is very important to chain drug store corporate manage­ment. Store level employees refer to these bosses as "the suits" in an effort to denigrate the fact that they are abso­lutely obsessed with productivity metrics like the speed with which prescriptions are filled.
I was once excoriated by pharmacists for writing an article observing that thorough pharmacists are slower
I once wrote an article for the popular pharmacy magazine Drug Topics in which I commented that being extra careful in filling prescriptions and in providing significant an­swers to customers' questions takes time and slows pharmacists as they work on what we view as a fast-food as­sembly line. With each article, I provided my e-mail address. I've never had such a negative reaction to one of my articles.
I had pharmacists send me very angry e-mails stating things like the following:
Yeah, we know your type. You take your good ol' time filling prescriptions and speaking with cus­tomers. That causes complete chaos in the phar­macy from the bottleneck that ensues. The result­ing chaos can actually result in an increase in pharmacy mistakes. Your being a slow pharmacist imposes a hardship on everyone else in the phar­macy. So everyone else in the pharmacy has to work twice as hard to compensate for your self-in­dulgence and self-centeredness.
I replied to those pharmacists by stating that I didn't mean to imply that I am advocating or making the case for slow pharmacists. I was merely trying to point out that being very careful and thorough slows down a pharmacist somewhat. I was vilified by many pharmacists who seemed to think that I was apologizing for slow pharmacists. I'm now retired but the fact is that I, too, didn't like working with slow pharmacists.
My own experience (after retirement) as a phar­macy customer: Why does it take so darn long to have a prescription filled?
I don't take any medications myself on a regular basis. On a few occasions since retiring, I have had an antibiotic pre­scription filled (usually amoxicillin) for an abscessed tooth. When my mother was being treated for colon can­cer, I took a few of her prescriptions to a local drug store for pain, nausea, etc. When my stepfather had a bad back­ache, I took a prescription for a muscle relaxant to a local drug store. And occasionally I have taken prescriptions for sick neighbors to have them filled. I hate to admit it but, knowing what I know about the horrible and dangerous problem of pharmacy understaffing, I too found myself wondering "Why in the hell is it taking them so long to fill the prescriptions?" I guess impatience is hard-wired in hu­mans.
How chain store corporate bosses remove under­performing pharmacists
Chain store corporate supervisors closely watch the num­ber of prescriptions filled at each drug store on a weekly or monthly basis, usually in comparison to the same week the previous year. If that number shows a downward trend, the pharmacist had better have a good explanation (like a competitor recently opening a drug store nearby).
Pharmacists working in stores with a negative trajectory in prescription volume will indeed often find themselves as targets of criticism from our corporate bosses. These bosses can then try to make the pharmacist's job so unpleasant that he/she will quit on his/her own, rather than being fired.
For example, the district supervisor might remove the pharmacist from one assigned store and transition him/her to floater status working at the ten to twenty stores in the supervisor's district. The long travel times, along with being unfamiliar with the technicians working at that store and the specific layout of the pharmacy de­partment, have a major impact on pharmacists' job satis­faction. The result is that these pharmacists often end up quitting on their own. That lets the district supervisor avoid the messy process of firing underperforming phar­macists.
Pharmacy schools should have prescription filling races to illustrate the importance of speed in the real world
I've long felt that pharmacy schools should have prescrip­tion filling races to see which pharmacy students fill prescriptions the fastest. Such an exercise would much more closely resemble the real world of chain drug stores and contrast it with the bizarre world of pharmacy schools where professors pretend that there's plenty of time and staffing for counseling.
Pharmacy schools promote a view of pharmacy based on patient counseling
Pharmacy students don't realize how important speed will be in their career. Pharmacy schools promote a pie-in-the sky view of pharmacists as respected professionals who provide important counseling to our customers. We were indoctrinated in pharmacy school with a view of pharmacy that does not exist in the real world, at least certainly not in the world of chain drug stores. I worked in chain drug stores for my entire career, so I am unable to share any firsthand experience regarding the emphasis on speed in hospital pharmacies.
Pharmacy schools spend a lot of time teaching students to "counsel" pharmacy customers. Pharmacy professors tell students that our counseling is very important and valued by customers. Pharmacy schools do not tell students that corporate level bosses at chain drug stores have complete disdain for pharmacists who spend too much time speaking with customers.
Speed is more important than a pharmacist's drug knowledge
Speed is a pharmacist's biggest asset at chain drug stores, not his/her drug knowledge. Little did we know in pharmacy school that speed would be a much bigger asset dur­ing our career than our knowledge of pharmaceuticals' ac­tions, indications, side effects, warnings, precautions, con­traindications, and interactions with other drugs.
Pharmacology is the core subject in pharmacy school, yet you may be surprised to learn that chain drug store corporate executives value a pharmacist's speed infinitely more than his/her expertise in drugs. A pharmacist who pro­vides excellent and helpful information verbally to cus­tomers is valued no more highly than a pharmacist who does a poor job in counseling.
A pharmacist's slowness in filling prescriptions is infinitely more likely to jeopardize his/her job than his/her drug knowledge. During my career in chain drug stores, I saw many instances of pharmacists being criticized or ridi­culed (usually behind their backs) by district supervisors and other pharmacists for being slow.
Speed is far more important than counseling
I have never seen or heard of a district supervisor criticiz­ing a pharmacist for not providing high quality counseling to customers. To the big drug store chains, speed is clearly more important than informing and educating customers about medications.
Of course, pharmacists can find themselves in hot water for overlooking drug interactions, for overlooking doses that are too high or too low, for misreading prescriptions, and, of course, for dispensing the wrong drug or the wrong dose. But, in my experience, a pharmacist's speed is far more likely to get a pharmacist in trouble than his/her deficient drug knowledge.
Settlements for pharmacy mistakes are just a cost of doing business
It is true that chain store corporate bosses don't want to employ pharmacists who make lots of mistakes. But, in my experience, chain store corporate management seems to view cash settlements for pharmacy mistakes as an inevita­ble cost of doing business, just like the lease, the electric bill, the water bill, janitorial services, employee wages, liquor licenses, cost of inventory, etc. An inevitable conse­quence of lightning-fast prescription filling is an increase in pharmacy mistakes and lawsuits.
Pharmacy mistakes can certainly jeopardize a pharmacist's job, but being slow in filling prescriptions is a more common scenario that prompts action from corporate bosses.
If the district supervisor sees long lines at the drop-off and pick-up windows every time he/she walks into the store, that supervisor's reaction is NOT that it's good to see that the pharmacy is busy. The supervisor's reaction is that the pharmacist and techs are unable to "handle the volume." To supervisors, long lines don't mean you're busy, they mean you're slow.
Drive-thru windows create an expectation of speed
Many pharmacists feel that drive-thru windows are the worst thing that ever happened in the world of pharmacy. These drive-thru windows create the expectation that pharmaceuticals are no different from hamburgers and that pharmaceuticals should be dispensed as quickly as hamburgers.
Pharmacists know they're part of an absurd profession when they hear people in their cars at the drive-thru win­dow honking their horns because the customers feel they have waited too long. And customers inside the store at the pharmacy counter are repeatedly coughing, clearing their throats, and clanging their keys on the pharmacy counter to let the pharmacy staff know they're getting im­patient with how long they've waited. Little do these phar­macy customers know that mistakes in the pharmacy can, and do, result in serious injury or death.
Drive thru windows facilitate what's known as "the commodification of health"
The pharmaceutical industry would like to eliminate phar­macists and drug stores entirely by selling pills directly to the public, with Amazon as a model for increased profits. Big Pharma sees pharmacists as unnecessary middlemen who siphon off profits that Pharma should have all for it­self.
Drive-thru windows seem to have the effect of convincing the public that pharmaceuticals are no different from any other consumer product in the marketplace and that, in fact, health is a commodity that can be purchased at a pharmacy drive thru.
Pharmacists dispense very potent and potentially danger­ous products while people at the drive-thru window are blowing their horns. This is just one more indication of how absurd our health care system based on commodities is. Our health care system should be based on prevention ra­ther than commodities. But there's no money in preven­tion.
Keep in mind that the level of pharmacy staffing is tightly controlled and seldom adequate
The next time you have prescriptions filled, even though you may be tempted to be angry with how long you have to wait, keep in mind that there are a ton of factors that are in play, most of which you are unaware of. Most pharmacy customers don't know that the level of pharmacy staffing is extremely tightly controlled based on the number of prescriptions the pharmacy averages filling per week or month.
The number of warm bodies you see in your pharmacy is not some random occurrence. It is, in fact, one of the biggest criteria that pharmacists use to judge whether that drugstore chain is a good place to work or whether it is a dangerous place in which serious mistakes are inevitable.
The amount of technician assistance (often referred to as the "technician budget" or "tech payroll") is one of the top two criteria that most pharmacists use in evaluating their employer. Pharmacists' number one concern is probably their own salary.
The job is not worth it regardless of what it pays
I've known pharmacists who say they would gladly take a cut in salary if their employer would provide adequate technician assistance. No matter how nice a pharmacist's salary is, if the pharmacy doesn't have adequate technician assistance, the job is not worth having, regardless of how much it pays.
It's cheaper to pay cash settlements than to provide adequate staffing
Corporate management seems to prefer to have pharma­cists sling out prescriptions at lightning speed, and then compensate those customers injured by a pharmacy mis­take, rather than provide adequate staffing levels for the safe filling of prescriptions.
The attitude from chain corporate management seems to be "We need every employee to work at maximum output for his/her entire shift until we burn them out and then we'll replace them with another warm body."
In Conclusion, Beware of the Emphasis on Speed:
Please be patient at your pharmacy and don't blame the pharmacy staff for taking so long to fill your prescriptions. Please be aware that staffing levels at chain drug stores are tightly controlled by corporate management. Understaffing is possibly the thing that most angers pharmacists but please realize that pharmacists are powerless to do any­thing about it.
State boards of pharmacy exist to protect the public. Phar­macists complain to state boards of pharmacy quite regularly about the risk to the public safety posed by under­staffing.
You might be inclined to complain to your state board of pharmacy but the reality is that most state boards of pharmacy are intimidated by the immense legal and political clout of the mighty chain drug stores with their corporate lawyers. Thus the state boards of pharmacy have largely done a very poor job protecting the public from under­staffing which definitely causes pharmacy mistakes.
The big drug store chains typically claim that staffing lev­els are an employer / employee issue when in fact understaffing is a serious public safety issue. Lobbyists for the big chains tell members of the state legislatures that the board of pharmacy is being anti-business and is interfer­ing with the internal affairs of these businesses. The state legislatures then pressure the board of pharmacy to ease up on the big pharmacy chains. The head of the state board of pharmacy in one state where I worked once told me that his worst days are those in which he is dealing with lawyers representing the big pharmacy chains.
Dennis Miller, R.Ph. is a retired chain store pharmacist. His book, The Shocking Truth About Pharmacy: A Pharmacist Reveals All the Disturbing Secrets, can be downloaded in its entirety at Amazon for 99 cents.