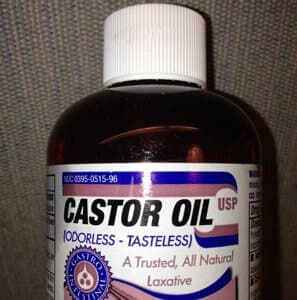 Castor oil is an old-time remedy. The oil comes from the seeds of the Ricinus communis plant, which has been used for thousands of years. The ancient Egyptians used castor oil in their lamps because it was slow burning. They also used it as a body oil for their skin. Medicinally, it was valued as a laxative. The famed Christian mystic, Edgar Cayce, loved castor oil, aka Palma Christi (the palm of Christ). He wrote about it in his books and used it for fungal infections, acne, inflammation and wound healing.
Treatment with CO "Packs"
Cayce often recommended castor oil packs to his "clients." They were told to fold soft flannel cloth a couple of times, soak the flannel in the oil, wring it out, and then apply it to the area on the body that "needs treatment." This topical remedy has been used for a wide variety of conditions, from bruises and warts to cracked fingertips and sore joints. Readers of our newspaper column have sent us their testimonials:
Castor Oil for Joint Pain:
Q. A friend told us about topical castor oil for pain relief. My husband thought he'd need a knee replacement soon, but once he started applying castor oil daily his joint is oiled up and ready to use.
I have told friends who used it on their foot or wrist. When my arthritis is acting up, I use it on my hip. It's really helpful.
A. Readers of this column have been telling us for years that topical application of castor oil could be beneficial against arthritis pain. Animal research indicates that the active ingredient, ricinoleic acid, has  anti-inflammatory activity (European Journal of Pharmacology, Oct. 27, 2000). Research suggests that repeated application offers the best results (Mediators of Inflammation, 2000).
Rescuing a Wrenched Knee:
Q. Castor oil is a life-saver for joints, especially knees.
A few years ago, my husband hurt/twisted his knee while getting in and out of a huge truck. The pain only increased as time went by, so we went to urgent care. After x-rays, etc., my husband was told that it really required surgery to repair and fix his knee, which was NOT in our budget at the time. What to do?
We had already heard about using castor oil on joints from a couple of doctors (M.D.) with knowledge in natural remedies, also.
How to Apply Castor Oil:
According to instructions, I massaged castor oil into his whole knee area; then I wrapped the whole area with an old cloth (that I would continue to keep stored/sealed in a zippy-bag, for re-use) and with saran-type-wrap, because the oil is both greasy and staining–it will not wash out. After that, we put a heating pad on the area (SET ON LOW heat) for an hour. We kept the wrappings on his knee over night.
I had to beg my husband to let me apply the oil and wrappings on the first night. The second night, he reminded me to fix up his knee again. Night number three, he did it himself, on his own. He woke up the next morning, with his knee feeling great.
If/when he or I ever hurt any joint, both of us know to rub with the castor oil, wrap with a cloth, cover for a while, and get relief. Heat does not have to be applied, but it helps.
There is nothing like castor oil for knees and joints. It's messy, but who cares, if it helps prevent or STOP the need for surgery and if it stops pain?
A few years ago a non-oily version of castor oil came out on the market: Castiva. We always kept a tube or two around the house; we can not find it now, though. Any idea where we can find Castiva?
Castiva for Joint Pain:
A. Castiva Arthritis Pain Relief is still available. You can find it online or in independent pharmacies. Castiva contains a castor oil base and comes in both a warming formula (capsaicin) or a cooling formula (menthol and methyl salicylate). Capsaicin (the hot stuff in hot chili peppers) has long been used to ease joint pain. Combined with castor oil we think this is a winning formulation.
Diane in New York had a somewhat similar experience:
"My mother was always ahead of her time with everything. She was a vegetarian all her life of 88 yrs. She did yoga for 55 yrs (before it became popular) and read Edgar Cayce and became a fan of castor oil immediately.

"I have recently had unexplained extreme pain in my knee area and shoulder. Blood tests ruled out lupus and Lyme (I had a tick bite last year). The blood work showed inflammation. The Rheumatologist recommended medication but I chose the oil route instead. I experienced improvement within a few days.

Prior to the castor oil pack I could not stand or walk without a knee brace and cane. Now nothing, no pain at all…RIP Mom."
Other Conditions That Respond to Castor Oil:
Bruises:
L.C.F. tells a great story about bruise prevention:
"Whenever my children hurt themselves, the first thing I reached for was the castor oil. My mother-in-law's uncle was a boxer and castor oil was what they used after a boxing match to prevent hematomas and bruising. It works like a charm. It has been passed down as a remedy in my family for many years."
Tom D. accumulated a lot of bruises as a Lacrosse player:
"Used oil from the castor bean in Lacrosse for years. Put on the oil and wrapped it with plastic wrap, bruise would at times be gone the next day. Frustrated a lot of players because they would swear that they hit you… :-) "
M.M. is super susceptible to bruising:
"Castor Oil DEFINITELY WORKS!!! I am a huge bruiser, esp. since I am borderline anemic and whenever I bruise and I apply castor oil right away directly to bruise and rub it in a bit, it significantly minimizes the bruise right away and/or decreases the severity or # of days it shows! I love it!"
 Pains:
D.G. uses it for a variety of aches and pains:
"I rub castor oil on my aches and pains, and it helps a lot. Some people make packs. I used them when the doctors said I had liver cancer. We don't know what happened to the liver cancer! It is gone. I use castor oil every chance I get. I hope it works for others! Take care!!"
Warts:
V.M. finally got rid of warts with castor oil:
"I had warts on my hands when I was younger. Tried the burning/freezing remedies and nothing worked as well as my mother's remedy of applying castor oil to the wart and covering with a band aid. This got rid of the warts completely. I forget how long it took or how often I had to reapply, but they never came back."
Anne had equally excellent long-term success:
" It completely eliminated a wart that I had tried to eliminate for over twenty years. It did not even leave a scar! I applied the oil on the wart after showering and at bedtime and covered it with a bandage. I kept at it until it was gone, maybe two months."
Other Uses:
If you find the stories about this old-fashioned remedy of interest, here are some links to more:
Inducing Labor:
One of the most unusual applications of this old-fashioned remedy is to start labor when a baby is overdo. We knew a pharmacist, John McDonald, in Durham, NC. He had a wall of his drugstore dedicated to pictures of babies that had been born after their mothers drank his special concoction containing castor oil. To our surprise, there are several studies of this effect.
"Nearly 91% of women in the study who consumed the castor oil cocktail to induce labor were able to give birth vaginally with little to no maternal or fetal complications."
Israeli researchers carried out a randomized controlled trial (Women and Birth, Feb. 2018).
They found that:
"Multiparous women in the intervention group exhibited a significant beneficial effect on entering active labor within 24, 36 and 48h after castor oil consumption compared with the placebo."
Women should not consider this approach, however, unless they have consulted with their midwife or obstetrician.
We would love to learn about your stories. Share your experiences below.
And if you would like other home remedies for arthritis, muscle aches, warts, headaches or just about any other ailment, you might like a copy of our book, Quick & Handy Home Remedies.