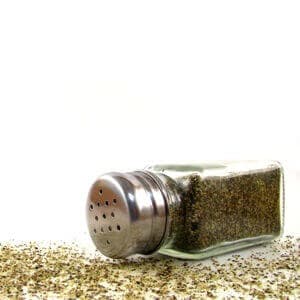 Q. You have written about a drugstore product to stop bleeding. Instead of WoundSeal, we use finely ground black pepper on bleeding cuts. My old friends tell me that is what they used in World War II. It is cheap and handy and we have used it to great effect.
First Aid First:
A. Don't forget first aid: apply direct pressure on the cut for several minutes. After that, black pepper makes a great home remedy.
Black Pepper Enthusiasts:
We have heard from a number of people who use this remedy. One reader suggests:
"The little packages of black pepper from the fast food stores are easy to carry with you and will stop bleeding. All are easy to wash off if you have to go to the doctor."
Still another comments:
"Either black or red pepper works very well too. I keep some in my auto first aid kit. Every workshop should have some pepper to stop bleeding and some soy sauce for burns in it. I have used both at times during my work. Oil of oregano is another must. It works wonders to neutralize stings. One drop does it."
Here is yet another great black pepper story, this one from a cabinet maker:
Cabinet Maker Appreciates Black Pepper:
Q. Black pepper works great to stop bleeding! I build cabinets. While moving a large cabinet on rollers across a gap in my concrete floor, the cabinet slipped back into the gap and onto my middle finger, just as I was standing up. Not only did it bust open, but the action of standing up almost ripped it in two.
I bandaged the finger, but the next morning it was still bleeding. My cousin told me about your suggestion of black pepper on cuts, so I tried it. It stopped the bleeding. Thanks for this simple remedy.
A. We first heard about using black pepper to control bleeding from an RV camper in 1996. Her brother-in-law Wendall was a woodcarver and had learned from his carving buddies to put black pepper on minor cuts. During a road trip a coffee cup fell out of a cupboard and hit him on the head. It bled profusely, but the bleeding stopped when they applied ground black pepper.
We have subsequently heard from many other readers who have tried this remedy successfully. We have even used it ourselves. Of course, a serious injury requires medical attention rather than a home remedy.
For those who don't respond to black pepper on a cut, WoundSeal is a good choice. Some blood thinning medicines (including aspirin) or supplements may make it harder to stop bleeding. Even people on such pills can benefit from WoundSeal.
Do You Enjoy Home Remedies?
If you find suggestions such as black pepper for household cuts both intriguing and helpful, you may want to buy our book, The People's Pharmacy Quick & Handy Home Remedies. It has hundreds of stories from readers with practical suggestions for everything from arthritis and constipation to headaches and insomnia. Here's a link.