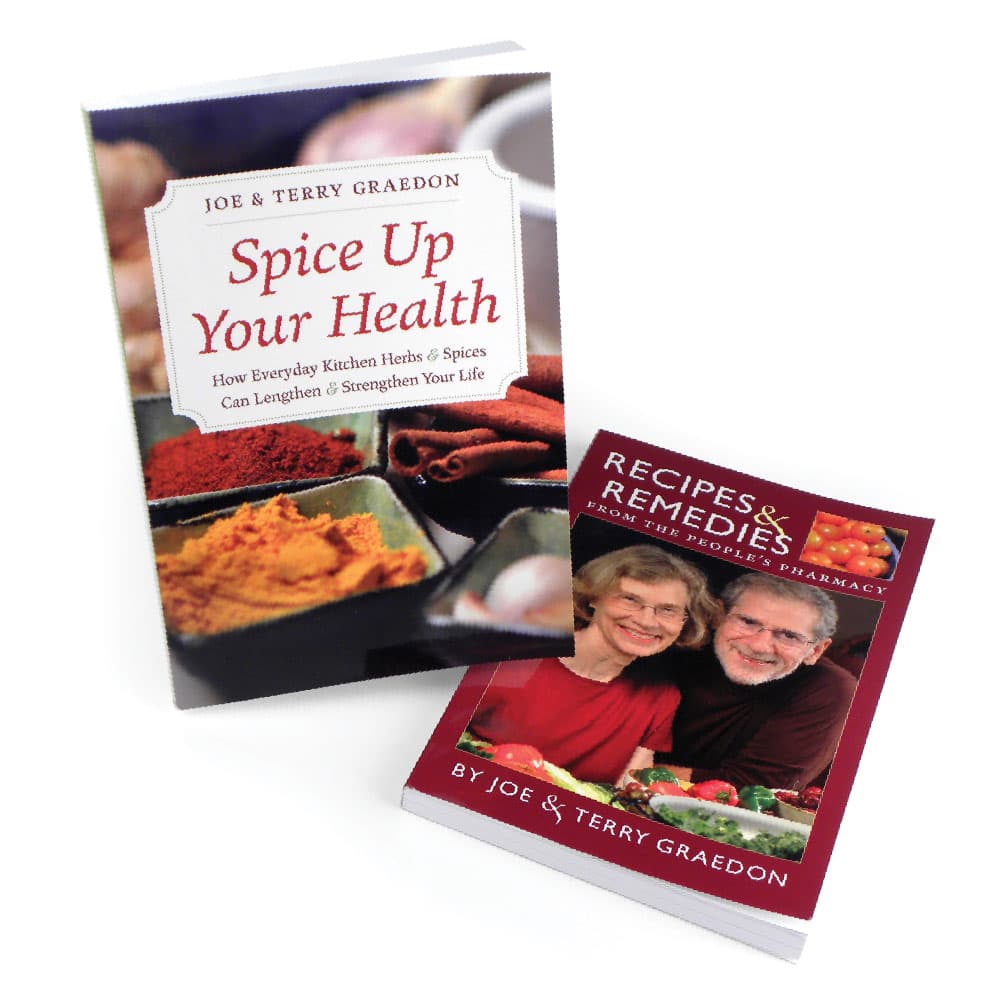 Do you still appreciate holding a book in your hands? If so, we have a great deal for you. We are offering a BIG book sale of 30% off on some of our most popular books! 
Do You Have Stiff, Painful Joints?
We are offering The Graedons' Guide to Alternatives for Arthritis with a 30% automatic discount. This 104-page booklet is normally $12.95. For the next few weeks during our BIG Book Sale the cost is $9.06. Here is the table of contents:
1 Steroid Drugs for Arthritis 
2 Nonsteroidal Anti-Inflammatory Drugs 
3 Topical NSAIDs 
4 Non-Drug Alternatives for Arthritis 
5 The Gin-Raisin Remedy 
6 Certo and Grape Juice 
7 Knox Gelatin 
8 Vinegar and Juice 
9 Pineapple (Bromelain) 
10 Non-Drug Alternatives for Arthritis 
11 Ashwagandha 
12 Boswellia 
13 Turmeric (Curcumin) 
14 Ginger 
15 Stinging Nettle 
16 Apitherapy (Bee Stings) for Arthritis 
17 Acupuncture for Arthritis 
18 Other Options 
19 MSM & SAMe 
If you know someone with arthritis, this would make a wonderful gift at an affordable price! Here is the link. 
Do You Like Spices?
If you believe in natural healing, you will love our book, Spice Up Your Health: How Everyday Kitchen Herbs & Spices Can Lengthen & Strengthen Your Life. 
You will learn about:
Anise
Basil
Caraway
Cayenne/Capsicums
Chamomile
Cinnamon
Coriander/Cilantro
Cumin
Fennel
Garlic
Ginger
Juniper Berries
Lavender
Lemon balm
Onion
Oregano
Peppermint
Rosemary
Sage
Thyme
Turmeric
Vanilla
Spice Up Your Health is normally $15.95. The sale price = $11.16. Here is a link. 
Cooking Healthy Food!
If you believe food is good medicine, as we do, you will want to order Recipes & Remedies from The People's Pharmacy! We asked some of our favorite experts for their best recipes and they were kind enough to share them! This book is normally $14.95. It is now on sale for $10.46. 
You will learn about recipes & remedies for common conditions:
Managing blood sugar
Lowering cholesterol
Fighting coughs and colds
Preventing hypertension
Dealing with indigestion
Combatting joint pain
Boosting memory
Tackling skin condition
Weight loss
You will also discover two weeks of healthy & delicious meals & recipes. They are all in Recipes & Remedies at 30% savings at this link. 
Mind Your Supplements!
Our all time favorite book on dietary supplements is one we DIDN'T write. Instead, it was written by one of the country's leading experts on integrative medicine, Dr. Tieraona Low Dog. Fortify Your Life: Your Guide to Vitamins, Minerals, and More is a reference we reach for time after time. When we want to know about drug-vitamin interactions or which foods are great sources of a mineral like magnesium or zinc, this is where we look it up. On sale at 30% off during the Big Book Sale now.
Watching Out for Medical Mistakes:
Last but not least, we are offering our book Top Screwups Doctors Make and How to Avoid Them. It's awfully easy for a physician to miss a diagnosis. How can you help your healthcare provider figure out what is really wrong with you? Which treatments are best for a range of common conditions? Learn about that, as well as about dispensing errors, drug interactions and the specific vulnerabilities of older people in Top Screwups. Like the rest, it is on sale for a limited time.
Do not miss this Big Book Sale for spring, 2021.