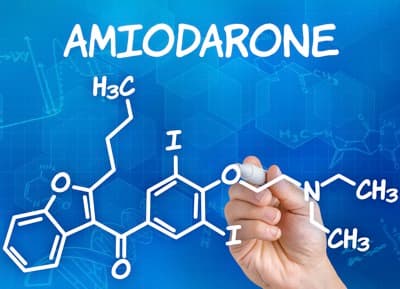 According to the FDA, "Amiodarone is intended for use only in patients with the indicated life-threatening arrhythmias because its use is accompanied by substantial toxicity." The FDA goes on to state that "Amiodarone has several potentially fatal toxicities…" They include lung toxicity, worsening heart rhythm disturbances and liver injury. The drug must be handled with kid gloves. Amiodarone side effects are not the only problem. This drug can interact dangerously with many other medications. That is why one reader sent us this question:
Amiodarone Drug Interactions:
Q. I frequently read your warnings that there may be interactions among medicines. Two doctors prescribe medications for me: my primary care doctor and my cardiologist. Although I ask, I don't think either of them is very concerned about possible interactions. What can you tell me about metformin and glipizide for diabetes, along with Eliquis, amiodarone, ramipril, simvastatin and tamsulosin?
A. You are wise to be concerned. Many of your medications could interact with each other. The heart drug amiodarone could increase levels of simvastatin in your system. That could magnify the risk of muscle damage. Amiodarone can also increase levels of your prostate drug tamsulosin, which could lead to adverse reactions.
Ask your cardiologist about the potential for amiodarone to interact with the anticoagulant Eliquis (apixaban). Your pharmacist should also review all your medications for possible interactions.
Drug Interactions Deserve Scrutiny:
If in fact this person's physicians are not being careful about interactions with amiodarone, they are making a big mistake. Other medicines can affect the electrocardiogram to produce what is known as a long QT interval. These drugs include lithium, tricyclic antidepressants like amitriptyline, fluoroquinolone antibiotics such as levofloxacine (Levaquin), macrolide antibiotics like erythromycin and clarithromycin and the pain reliever tramadol.
Statin-type cholesterol-lowering drugs can also be affected. We are especially concerned about simvastatin, lovastatin and atorvastatin. Anyone taking amiodarone must double-check to make sure there are no dangerous or deadly drug interactions.
Amiodarone Side Effects:
We have not listed all the potential amiodarone side effects in the table below. That's because such lists are mind numbing. After the first couple of adverse reactions most people zone out. Here are a few key concerns:
Signs and Symptoms to Watch Out For:
Shortness of breath, wheezing, difficulty breathing, coughing. Any such symptoms could be signs of lung toxicity!
Hepatitis, jaundice, liver enzyme abnormalities
Heart rhythm changes
Thyroid dysfunction (diverse symptoms from hypo to hyperthyroidism)
Exhaustion, fatigue, unsteadiness, dizziness
Hand shaking, tremor
Digestive upset, nausea, vomiting
Skin rash
To learn more, visit this link:
Readers Share Stories:
It is often meaningless to provide a long list of side effects or symptoms. Drug companies know this. That is why the announcer can speed through a long list of scary side effects during a prescription drug commercial and no one seems to blink. Ditto for print ads. If you see a long paragraph with 30 side effects your brain tunes out pretty fast. That is why we share real stores from real readers:
Linda W. in Bragg Creek, Alberta, Canada writes:
"I had most of the most debilitating side-effects (nausea, anorexia, constipation, weight loss, blurred vision, fatigue, depression…). It was a horror for me, to the point where I felt suicidal. The worst part was that none of my specialists took my complaints seriously, especially the cardiologists.

"I white-knuckled it for 8 months while awaiting the catheter ablation. I still feel nauseous and weak 2 months after stopping, only to find that serious side-effects due to internal organs toxicity may occur up to a few years after ceasing usage due to its storage in fatty tissue, especially the liver."
Pulmonary Fibrosis:
Betsy shared this story about a serious amiodarone side effect:
"In January 2010 my husband had a quadruple coronary bypass surgery which was completely successful. He came out of the hospital taking several drugs, one of which was amiodarone, even tho at that point he was no longer having atrial fibrillation which he had immediately after surgery for several hours.

"A few weeks later he began having shortness of breath, lung x-rays showed inflammation which was diagnosed as pneumonia and treated with various antibiotics, with no relief.

"Finally in May the pulmonologist said to himself, while studying the x-rays, 'Maybe it's the amiodarone.' That was the first time anyone had mentioned anything about it. So I looked it up and sent the cardiologist an email saying we were discontinuing it. His response–'I agree.'

"Too late. He developed pulmonary fibrosis and he died four years later, on oxygen the whole time, weighing 90 lbs at the end."
Myrtle in Maryland also had pulmonary fibrosis:
"In July 2016 I was sent to Johns Hopkins [JH] hospital in Baltimore for a triple by-pass. After a week of terrible pain I then was in re-hab for several months. The doctor who sent me to JH put me on amiodarone. After staying on amiodarone for 6 months I called doctor's office and expressed my concern on staying on the med so long. was told to 'talk to the doctor when I come in for next appointment.'

"By February of 2017 I could hardly breathe. After a 7-day hospital stay they decided that I had pulmonary fibrosis – the pulmonologist and my primary care physician both believe the amiodarone caused it.

"The result is that I am on oxygen 24/7. It's heartbreaking to have this happen. I feel like my cardiologist betrayed me."
People's Pharmacy Perspective:
For some people amiodarone is a life saver. No one should EVER stop a prescribed medicine without careful discussion with the prescribing physician. That said, amiodarone requires VERY careful oversight. At the first sign of lung problems a patient must be thoroughly monitored.
In our opinion, amiodarone should only be prescribed by a physician who promises to: 1) stay well informed about amiodarone side effects and drug interactions. 2) knows how to monitor patients for adverse reactions. 3) Avoids unapproved indications unless as a last resort.
The only FDA approved indications for amiodarone are:
1. Recurrent ventricular fibrillation
2. Recurrent hemodynamically unstable ventricular tachycardia
Please note that atrial fibrillation is not on that list.
Share your own experience with amiodarone below in the comment section.