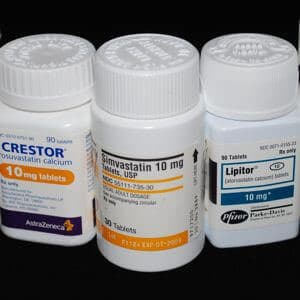 Statins cholesterol statin drugs
Atorvastatin (Lipitor) is one of the most prescribed drugs in the world. At last count, over 100 million prescriptions were dispensed annually  in the U.S. (Quintiles IMS, May, 2017, now IQVIA Institute). It is frequently prescribed to try to prevent a cardiovascular event such as a heart attack or a stroke. Doctors call this "primary prevention." That remains controversial. Read more at this link. What is far less controversial is the use of statins after a heart attack. That is called "secondary prevention." The goal is to prevent a second (or third) heart attack. This patient was taking a statin for secondary prevention. Was he adequately advised of atorvastatin side effects?
Q. I had a major cardiac event that I am lucky to have survived. About three months later, I developed a horrible case of psoriasis. I had open lesions on the palms of my hands and my feet. Bathing was sheer agony and I could barely walk.
I suffered with this for about a year and a half. I suspected that atorvastatin was causing my problem and asked my doctors about it. Both the cardiologist and the dermatologist said there was no connection between the statin and my psoriasis.
I finally did a Google search that led me to a case report from the Department of Dermatology at the University of Genoa, Italy, in 2009. It conclusively proved that atorvastatin can worsen a case of psoriasis. I contacted Pfizer, and they referred me to the article I had already discovered. Why didn't my doctors know this fact?
As soon as I read that clinical study, I immediately discontinued the atorvastatin and my psoriasis started to improve. Please inform the public. I suffered needlessly for a year and a half just because my physicians didn't know about this adverse reaction.
Should the Doctors Have Known About All Statin Side Effects?
A. Psoriasis is not listed as one of the atorvastatin side effects in the prescribing information. That may be why your physicians were unaware of it. You really cannot blame them if the FDA and the drug company did not recognize this as a drug complication.
It is not unusual for pharmaceutical companies to miss rare or unusual side effects during clinical trials. For example, no one knew that blood sugar elevations and diabetes were linked to statins during the early years of research into this class of medicines. It wasn't on anyone's radar. We started hearing from readers about statins and blood sugar elevations in 2003, but it wasn't until 2008 that an official connection was detected.
A key trial of rosuvastatin (Crestor) called JUPITOR revealed that statins could indeed raise blood glucose (New England Journal of Medicine, Nov. 20, 2008). Until that study, most health professionals did not believe that statins could increase blood sugar or make diabetes harder to control. Read more about this fascinating case at this link:
Statins and Psoriasis?
As we noted above, there is nothing in the official prescribing information under atorvastatin side effects that mentions psoriasis. We were able to track down the article you referred to (Journal of Dermatological Case Reports, Dec. 30, 2009).  Another case report describes a psoriasis-like reaction to pravastatin (Case Reports in Dermatological Medicine, July 31, 2017). The authors note that statins may often be overlooked as the cause of skin reactions.
Those were the only reports we could locate linking psoriasis to statins. We cannot tell you if this is exceedingly rare or has been overlooked. Perhaps other people who have experienced atorvastatin side effects will share their experiences in the comment section below.
Other Atorvastatin Side Effects:
More common atorvastatin side effects include muscle pain or spasms. These can crop up almost anywhere in the body (legs, shoulders, back, arms or neck).
Very few health professionals have heard of arthritis as one of the atorvastatin side effects. Yet "arthralgia" (arthritis-like pain) is noted in the official prescribing information as a "commonly reported adverse reaction."
As mentioned, blood sugar elevations are now recognized as one of the atorvastatin side effects. The official language states:
"Increases in HbA1c and fasting serum glucose levels have been reported with HMG-CoA reductase inhibitors [statins], including LIPITOR."
Nerve pain, peripheral neuropathy and leg cramps are possible with atorvastatin. So is digestive upset. Pancreatitis is considered quite rare, but it can be incredibly painful and very serious. Learn more about atorvastatin side effects and complications at this link.
Share your own experience with atorvastatin in the comment section below. Have you experienced any adverse skin reactions? Our reader would certainly like to know if anyone else developed psoriasis or some other dermatological complication.