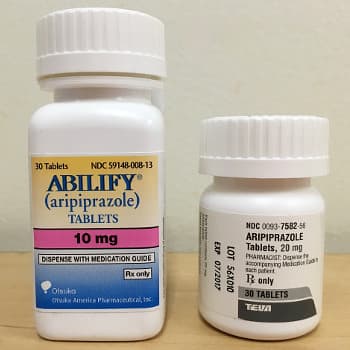 Overview
Abilify (aripiprazole) is a powerful drug approved for treating schizophrenia. It is also employed for patients with serious bipolar disorder and occasionally as an adjunctive treatment for major depression. There is a black box warning about the danger of giving this medicine to older people with dementia-related psychosis. The drug has not been approved for this use and may increase the risk of death.
Please note that there is also an increased risk of diabetes associated with Abilify.
People's Pharmacy Perspective
Abilify is considered an "atypical" antipsychotic. It belongs to a new-generation of mind medicines including Clozaril (clozapine), Risperdal (risperidone), Zyprexa (olanzapine), Seroquel (quetiapine) and Geodon (ziprasidone). When this new group of schizophrenia drugs was introduced in the 1990s they were greeted with a great deal of enthusiasm. Clinicians suggested that such drugs were far more effective and much safer than older antipsychotics. It wouldn't have taken much to improve on the old-generation of medications that were first introduced in the 1950s.
Drugs like Thorazine (chlorpromazine),  Stelazine (trifluoperazine), Mellaril (thioridazine) and Haldol (haloperidol) come with a long list of side effects including dizziness, slurred speech, seizures, and a variety of movement disorders such as severe neck muscle spasms causing head twitches or uncontrollable rhythmic movements such as sticking out the tongue. People often walk with a zombie-like shuffle. Just a few of the other complications can include urinary retention, constipation and sexual difficulties. It's hardly surprising such medicines were not that popular with patients.
With the arrival of the atypical antipsychotics, there was hope that patients would be able to return to normal activities or at least resume some semblance of a normal life. Aggressive marketing by the pharmaceutical industry has made these drugs highly successful. More than $13 billion is spent on antipsychotic drugs each year. They are now prescribed for much more than schizophrenia. Many people take these drugs for Alzheimer's, dementia, bipolar disorder, autism, OCD, ADHD, autism and major depression.
There is also growing concern about both the safety and effectiveness of these new-generation antipsychotics. A study in the New England Journal of Medicine reported that these drugs were no more effective or less likely to cause troublesome side effects than an older antipsychotic medicine (Sept. 22, 2005). There is also a report of an alarming rate of sudden cardiac death linked to the newer drugs (New England Journal of Medicine, Jan. 15, 2009). We now know that many of these medicines can cause dramatic weight gain, diabetes, strokes and irregular heart rhythms. Children and older people may be especially vulnerable to complications.
The bottom line from The People's Pharmacy is that drugs like Abilify may be very helpful for some patients, but they are not magic bullets. They don't cure schizophrenia and they come with a long list of side effects.
Common Side Effects of Abilify (aripiprazole)
Headache
Fatigue and/or tiredness
Restlessness, agitation or inability to sit still
Anxiety
Weight gain
Insomnia
Nausea, digestive discomfort and/or vomiting
Dizziness
Sedation
Shaking and/or tremor
Constipation
Dry Mouth
Blurred Vision
Serious Side Effects of Abilify (aripiprazole)
High fever, muscular rigidness, unstable blood pressure, confusion (potentially life threatening!).
Uncontrollable mucle movements and tics
Stroke
High blood sugar
Diabetes
High blood pressure
Irregular heart rhythms
Obstruction in the intestines
Gall bladder attack
Pancreas irritation
Muscle pain and weakness
Suicidal thoughts
Depression
Full prescribing information can be found at:
http://dailymed.nlm.nih.gov/dailymed/drugInfo.cfm?id=8204
Check out Wikipedia for more user-friendly information:
http://en.wikipedia.org/wiki/Aripiprazole
For Drug Interaction Information check out iGuard: