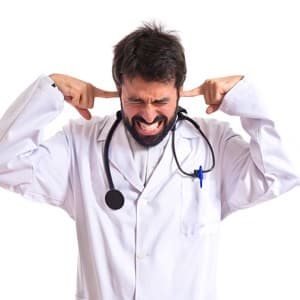 For far too long the health care system has been out of balance. Physicians have been at the top of the pyramid. Patients were relegated to the bottom. It is time we changed the paradigm! Engaged and activated patients need to become equal partners in managing their health care. The phrase "shared decision making" has become popular in some circles, but what does it mean in reality? You will hear from someone who takes that phrase to heart! You will also hear from patients who have been fired by doctors who dislike the idea of an activated patient.
The Old Paradigm:
Dr. Danny Sands is a friend and co-founder of the Society for Participatory Medicine. Terry and I, along with a dozen other health care professionals and engaged patients, formed this organization in 2009. What is Participatory Medicine?
"For too long both patients and health care professionals have thought of health care as a car wash, with the patient passively moving through the health care system car wash, getting health sprinkled on them, and coming out healthy. This lack of engagement results in dissatisfaction, high costs, and poor quality care. We need to reimagine health care as an active collaboration between the patients and the health care professional."
The Hierarchy in Medicine
The hierarchy in medicine has traditionally put specialists at the top of the pyramid. Follow the money!
Neurosurgeons average $637,000/year
Cardiothoracic surgeons average $494,000/year
Dermatologists average $315,000/year
Internists average $230,000/year
Family practice docs average $215,000/year
Pediatricians average $211,000/year
Geriatrics Physicians average $199,000/year
Activated Patient vs. "Time is Money"!
What does it take to be a "good" patient? For many busy health care professionals, it means a person who takes their pills, does what they're told and doesn't ask too many questions.
The medical conveyor belt always has patients waiting in the queue. Asking too many questions slows down the medical machinery.
We understand that time pressure can make it difficult for a busy clinician to address lots of questions. But an activated patient who has made an effort to inform themself is in a much better position to participate in shared health care decision making.
An Example of an Activated Patient:
We received this letter from an engaged patient:
"I have experienced potentially serious issues because of doctors who brushed off my concerns. To set a framework for the situation, it is necessary to go back to 1998. My internist stressed the importance of self-monitoring.

"Acting upon his comments, each morning I began to take my weight, blood pressure, glucose reading and pulse. I entered the data into a spreadsheet and took it with me whenever I went to a doctor, along with a list of medications and a detailed description of whatever the medical problems were for the appointment.

"The doctors loved it, as it helped to provide focused attention on whatever the issues were. The second benefit to this data collecting system was that it provided instant feedback allowing me to monitor myself. I could see what impact a change in medication had on me.

"The latest lifesaver involved a visit to the cardiologist who has been seeing me for almost a decade. I have had a pacemaker implant for about 12 years and never had a problem. Another element in this episode was that my internist switched me to Bydureon for my diabetes about six months earlier.
Could a drug be causing the problem?
"At this point in time, I was experiencing heart palpitations and tachycardia. In addition, a host of other issues had arisen, including digestive problems and a slow but constant loss of weight. The palpitations were, at times, severe. Sitting in his office, my pulse was 115 beats per minute. He was obviously concerned and scheduled several tests, but here is where the situation fell off the rails.

"I told him that I noticed about 30 minutes after taking atorvastatin at bedtime, the palpitations dramatically increased. He was quite sure that the statin was not to blame. Although he noted that I had been switched to Bydureon, he said that was not a factor.

"Reluctantly, he agreed that I might stop taking the atorvastatin. Within two days, I noted a host of changes. My blood pressure readings normalized. My weight stabilized. The digestive problems vanished, and my heart rhythm became normal.

"Since stopping the statin, my blood glucose levels are better than they have been in years. My walking pulse rate returned to what it used to be a long time ago, and I felt ten years younger. I am once again fully engaged in my exercise program, including a weekly golf game in which I walk the 18 holes. Also, I ride my bike at least 10 miles a day, and my pulse rate becomes normal within 15 minutes of completing intense activity.

"I am now working with my internist to see if I can reintroduce a statin without causing serious problems."
This activated patient demonstrates the value of careful record keeping and dialog with the doctor. He is an excellent role model for anyone with chronic health conditions taking multiple medications.
Why Are Some Doctors Threatened by an Activated Patient?
Remember the old phrase "Father Knows Best"? Robert Young was the affable actor who played Jim Anderson on this popular 1950s TV show. He also played a starring role in the television series "Marcus Welby, M.D." from 1969 to 1976. It's hardly any wonder, then, that many people made the association: Doctor Knows Best. The idea of the doctor as a father figure with a heart of gold and all the time in the world is appealing, but no longer relevant.
Some doctors still believe that doctor knows best.
Many visitors to this website have been fired by their doctors because they questioned a medication or a procedure. Here are just a few of the many messages we have received from engaged patients:
Barbara was fired by two rheumatologists because she did not want to take pricey "biologic" drugs that come with some serious side effects:
"After 3.5 years seeing a rheumatologist she 'fired' me because I didn't want to start taking a biologic. I explained my reasons and felt it was my choice. All that time, I had been on the chemo drug methotrexate along with prednisone.

"A second rheumatologist I went to for 1.2 years after that said she'd never try to force me to take any medication. That ended when she also failed to get me on a biologic and she also let me go.

"Both doctors talked to me like I was a recalcitrant child even though they both reported to my PCP that I was a very lovely lady. One called me 'trouble' when I declined to take the biologic. I have always been a respectful patient and never had a problem with any other doctors. My PCP of 40 years was disgusted when he learned of this. I have rheumatoid arthritis and am in my 23rd year with it, but I no longer see a rheumatologist. I've been told none exist that will work with a patient who doesn't do exactly as they say. In my view, I have valid reasons for not wanting to try a biologic. My position should be respected."
Want to learn more about biologic drugs for RA? Here is a link to some of the side effects Diana was concerned about with drugs such as Enbrel, Humira and Remicade. Some people get great relief from these medications, but an activated patient should be allowed to make this decision without being fired by a rheumatologist.
Diana did not want to take a different RA medicine. Perhaps you have heard about the controversial drug hydroxychloroquine. The brand name is Plaquenil:
"My rheumatologist fired me. I complied fully with her directions in treating rheumatoid arthritis, even being accepted into and completing a research program she developed . However, when she prescribed Plaquenil, I raised my concerns about potentially serious side effects. Even though retinal detachment was given as a rare side effect, that would be devastating not only to my teaching career but my entire quality of life.

"I'd had no significant decline in my health to warrant the meds change, either. That conversation, despite my civility (and research back-up), was surprisingly hostile. When I called to schedule my follow up, I was informed she'd no longer treat me due to 'non compliance.' Her medical group had the only rheumatologists in my city, so she essentially deprived me of all specialist care."
Elizabeth was an activated patient who fired her oncologist:
"I was the picture of good health before I was diagnosed with Stage 4 cancer out of the blue about a year ago. But I was very calm, pragmatic, and positive from the start, ready to take responsibility for whatever I could do to beat the cancer into remission and prolong my life.

"Imagine my shock when my radiation oncologist repeatedly refused to let me see my own CT scans. ('Bad idea. You don't want to see them,' he insisted, presumably assuming I would wax hysterical if I could see where my tumors were.) My medical oncologist at the same clinic grew annoyed with my questions about managing my cancer long-term.

"Every time I came in for a bone-strengthening Zometa IV drip, he never remembered why I was there. He didn't tell me which foods to avoid so as not to compromise the effectiveness of my endocrine therapy; in fact, I would never have known to avoid certain foods – or to get Zometa at all – if it weren't for my own research online!

"The last straw was having my medical oncologist tell me I was in remission for the time being (hurray!) but then become irate when I asked what symptoms I should be on the look-out for over time that might indicate renewed growth of the cancer. Although my actual therapy at that clinic was competently delivered, I felt so disrespected and disempowered there that I changed treatment centers."
Diane was dismissed because she did not want to take statins:
"At the young age of 69, I was fired by a cardiologist because I, 'respectfully declined' to take statins, explaining that all I had read about them made me uncomfortable. My cholesterol levels were borderline and I passed my treadmill stress test with flying colors; no family history of heart disease either.

"She was pleasant and told me she was releasing me back to my primary, reminding me to stay on a heart healthy diet. Next time I saw my PCP we talked and she agreed that it was my choice, which is why I love her and pay out of network to see her!"
Mary was an activated patient who wanted more help treating fibromyalgia. She was fired.
"I was diagnosed with fibromyalgia twenty years ago. I told my family doctor that I wanted to see a rheumatologist, since that is the usual specialist for treating fibromyalgia. He absolutely refused, telling my husband that if I didn't have faith in him to treat this, then he would no longer see me as a patient!

"Sure enough, I soon received a letter 'firing' me as a patient. Then, I had to get a special dispensation to see my new family doctor, just because he was in the same hospital network (different group) and I had been tainted by being 'fired'! What a nightmare experience, all because of one MD's giant ego!"
Final Words:
Are you an activated patient? Please tell us your story in the comment section below. Do you think it is right for a physician to fire a patient because she does not want to take a medicine?
Many years ago we heard from women who were "fired" by their gynecologists because they did not want to take hormone replacement therapy (HRT). Then the Women's Health Initiative (WHI) revealed unexpected side effects from estrogen plus progestin. You can learn more about this research at this link.
Now, many patients are being fired because they do not want to take statins. Read about the "statin wars" at this link. If you know someone who would benefit from reading about engaged patients, please share this article by scrolling to the top of the page and clicking on one of the icons for email, Twitter or Facebook. Thank you for supporting our work.