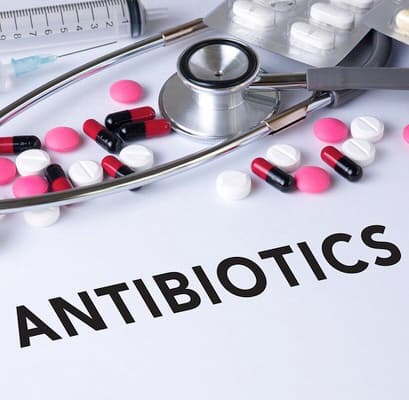 Antibiotics are, without doubt, one of the greatest breakthroughs in modern medicine. Millions, perhaps tens of millions, of lives have been saved thanks to antibiotics. Antibiotics are often perceived as magic bullets, capable of curing infections with virtually no side effects except the occasional case of diarrhea. But a new study has reported an association between antibiotics and colon cancer.
Antibiotics and Colon Cancer…Really?
The latest research to connect antibiotics and colon cancer is published in the Journal of the National Cancer Institute (Sept. 1, 2021). 
Researchers reviewed data from Swedish national registers from 2005-2016. There were over 200,000 controls and more than 40,000 cases of colorectal cancer.
Those who had taken antibiotics for longer than six months had a 17% greater risk of being diagnosed with colon cancer than people who had not taken antibiotics at all. Even moderate antibiotic use raised the risk slightly.
Here is the background for the study as described by the authors:
"Antibiotics use may increase colorectal cancer (CRC) risk by altering the gut microbiota, with suggestive evidence reported. Our study aims to investigate antibiotics use in relation to subsequent CRC risk."
They describe their findings this way:
"In this nationwide analysis of more than 40 000 CRC cases, we found a robust association between antibiotics use and higher risk of proximal colon cancer, consistent with previous investigations."
Previous Investigations of Antibiotics and Colon Cancer?
That's right. Other researchers have also noted an association between antibiotics and colon cancer. This type of observational study cannot establish a cause and effect relationship between antibiotic use and later colon cancer. Nevertheless, another study from the UK found a similar correlation between antibiotics and colon cancer.
Here are the conclusions of that study (Gut, April, 2018): 
"Long-term antibiotic use in early-to-middle adulthood was associated with increased risk of colorectal adenoma."
But wait, there's more!
"Frequent Use of Antibiotics Is Associated with Colorectal Cancer Risk: Results of a Nested Case-Control Study"
"Past exposure to multiple courses of penicillins is related to a modest elevation in CRC risk."
Why Is There An Association Between Antibiotics and Colon Cancer?
The authors of the latest research from Sweden speculate that alterations in the microbiome might explain this increase in colon cancer:
"The composition and function of the gut microbiome are believed to have a role in CRC development. A structural segregation of the gut microbiome between colorectal carcinoma and benign colorectal mucosa has been reported and evidence supports a pathogenic role of certain microbes, such as Fusobacterium nucleatum, in colorectal carcinogenesis."

"Many established CRC risk factors, including excess body fat and dietary factors, could alter the gut microbiome. However, use of antibiotics can have a more disruptive effect. For example, treatment with antibiotics can alter the microbial balance in the gut resulting in intestinal overgrowth of toxin-producing Clostridium difficile bacteria, causing diarrhea and inflammation. Antibiotic-induced dysbiosis may disrupt the anti-inflammatory effects of some microbiota and increase pathogenic bacteria, influencing CRC tumorigenesis."
A tumor may take several years to grow after exposure to antibiotics initiates it. Consequently, careful follow-up with colonoscopy may be called for after an intensive course of antibiotics. This study also encourages us to use antibiotics only when they are necessary. Promiscuous use of such medications when they are not essential can have unexpected negative consequences.
You can learn about the dangers of fluoroquinolone antibiotics at this link.