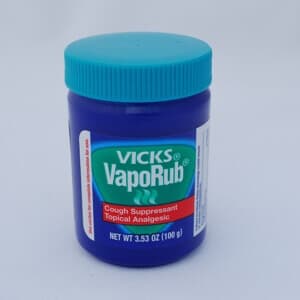 When North Carolina pharmacist Lunsford Richardson set out to formulate a vaporizing cold salve for his family over 100 years ago, he had no idea he would create an American icon. His children had come down with bad chest colds and the standard treatments of the day were messy and unsatisfactory.
The result of his effort was Vicks VapoRub. With its distinctive blue jar and unforgettable aroma, Vicks became known around the world as a remedy for congestion and other cold symptoms. It still contains the original formula: menthol, camphor, eucalyptus oil, cedarleaf oil, nutmeg oil, thymol and turpentine oil. Mothers from Mexico to Malaysia still rub Vicks VapoRub on their children's chests when they come down with coughs.
Many people don't stop at using Vicks for coughs and colds. Our readers have shared some amazing approaches, such as using this ointment for nail fungus:
"I used Vicks VapoRub to treat fungus infections on my toenails, rubbing a small amount on and under each toenail and the skin around the nails twice a day, at bedtime and rising. In about a month and a half the infection was cured."
Many others have shared their success using Vicks Vaporub on fungus-infected nails. It often takes at least six months to achieve substantial improvement.
An herbalist offered the following explanation:
"I have been interested in your discussion of Vicks. It is good for so many things because one ingredient is thymol. Thyme has two main essential oils, thymol and carvacol. In addition to their expectorant action against coughs, these substances have anti-bacterial and anti-fungal activity."
Another reader offers an amazing way to use Vicks against coughs:
"I have a time-tested use for Vicks VapoRub you may not have heard of. It was passed down from my mother and now my children are using it.

"When they were little and had coughs that were disturbing their rest (and ours), I'd grease the bottoms of their feet with Vicks. Presto! The cough subsided and we slept in peace. It works for grownups too."
Quite a few readers have told us that a dab of Vicks VapoRub on the forehead can banish a headache:
"When I was growing up in the 1950s my mother would rub Vicks on my forehead and nose to cure a bad headache. She would also tie a red bandana around my forehead with a corner of it covering my eyes. I would go to bed with this arrangement and the headache was always gone in the morning."
Some people find Vicks VapoRub helpful for mosquito bites, paper cuts or dry skin:
"Before I go to sleep, I put it on my hands and wear gloves. My hands haven't been so soft in a long time."
Finally, a horse trainer offered the most unusual use for Vicks:
"When young intact male horses are in training, their interest in learning to be race horses is easily diverted by the scents of estrous from fillies.  A generous smearing of Vicks in both nostrils of these young Romeos blocks the enticing odors and keeps their attention on their work."
If you find such home remedies intriguing, you may wish to consult our book, The People's Pharmacy Quick & Handy Home Remedies.