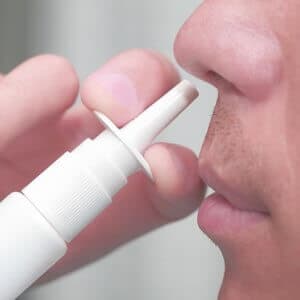 Not that long ago, corticosteroid nasal sprays were available only by prescription. Doctors had to monitor a patient's progress and make sure there were no complications from cortisone-like medications such as beclomethasone, budesonide, fluticasone, mometasone and triamcinolone. Now that people can buy allergy sprays containing corticosteroids over the counter, there is no longer much supervision. Many people assume that when such drugs are applied topically as nasal allergy sprays they are not absorbed into the body. This is not the case.
A Doctor Shares His Experience:
Q. As a cataract surgeon, I have seen several patients over the years with posterior subcapsular cataracts that I thought were attributable to steroid nasal sprays. It is quite common to see them in asthma or COPD patients who need inhaled steroids in order to breathe freely.
The nasal sprays for allergies are not so likely to cause cataracts as the inhalers, but I suspect some of the drug is getting into the bloodstream and circulating throughout the body from either route of administration.
A. Corticosteroid nasal sprays such as Beconase AQ, Flonase or Nasacort AQ were once available only by prescription. The prescribing information alerted physicians to adverse reactions such as:
Nosebleeds, sore throat, cough, headache or loss of the sense of smell. Nasal septal perforation, glaucoma and cataracts were also mentioned as possible complications.
Now the OTC Allergy Spray label reads:
"Ask a doctor before use if you have or had glaucoma or cataracts."
Not all doctors are aware that steroid sprays can lead to posterior subcapsular cataracts, although the link has been established (Journal of Ocular Pharmacology, Oct. 2007). People who rely on steroid sprays should be alert for any changes in vision. Regular eye exams are crucial for anyone using a corticosteroid medication, prescription or OTC.
Steroid Allergy Sprays and Smell:
The official prescribing information for steroid nasal allergy sprays like Flonase note:
"alterations or loss of sense of taste and/or smell"
How serious is this potential complication? Here are some stories from readers:
Cathy in southern California reports:
"I used Flonase for about a year. Cooking breakfast one morning my son in-law came flying down the stairs raced to the stove and turned off the burner I was using. He could smell gas upstairs and I couldn't smell it standing at the stove! That was my wake-up call and have never used Flonase again!"
Robert G in South Carolina shares a similar story:
"I used Nasacort for over a year. Over that time I gradually lost my sense of taste and smell. After I stopped using Nasacort, I gradually had my sense of smell and taste come back. Why is the fact that use of Nasacort can cause loss of smell and taste not on their list of things that can occur?"
J.L.W. in Georgia also had a corticosteroid allergy spray reaction:
"My sense of smell is not completely gone, but altered. I know I am smelling something but cannot identify it or it smells like something else. One day, I can only smell strong odors, then another day, I smell things no one else does. It's very frustrating!"
The Benefits and Risks of Allergy Sprays:
Corticosteroid sprays are quite helpful when it comes to easing nasal congestion. When you are miserable because of allergy symptoms, occasional use (according to the instructions on the label) can be very helpful. There is far less steroid exposure to a nasal spray than from an oral corticosteroid like prednisone.
Sadly, many people do not bother to read the instructions on the label. They just assume that if it is available over the counter it must be safe. Here are just a few of the cautions on the OTC label:
"Ask a doctor before use if you have or had glaucoma or cataracts"
"When using this product"
"the growth rate of some children may be slower" [suggesting systemic absorption]
"Stop use and ask a doctor if"
"you have, or come into contact with someone who has, chicken pox, measles or tuberculosis" [suggesting some immune modifying activity]
"your symptoms do not get better within 7 days of starting use or you get new symptoms such as severe facial pain or thick nasal discharge. You may have something more than allergies, such as an infection."
"you get a constant whistling sound from your nose. This may be a sign of damage inside your nose"
"you get changes to your vision that develop after starting this product"
"you have severe or frequent nosebleeds"
Share your own experiences with Flonase of other corticosteroid nasal allergy sprays below in the comment section.