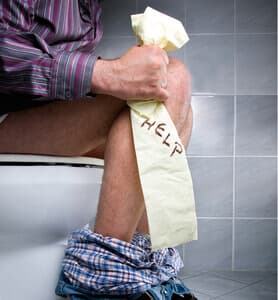 Over 5 millions prescriptions for the antibiotic clindamycin (Cleocin) are dispensed each year. This antibiotic has been available for almost 50 years. It is effective against a wide range of nasty bacteria including MRSA (methicillin-resistant Staphylococcus aureus) and strep-induced meningitis. Doctors and dentists have prescribed clindamycin for infections affecting the skin, ears, bones, throat, sinuses, lungs, joints and teeth. There is a devilish downside. One clindamycin side effect can be uncontrollable diarrhea. It can sometimes be fatal.
A Dangerous Clindamycin Side Effect:
A reader shared this harrowing story about a devastating clindamycin side effect:
Q. I was prescribed clindamycin following a dental procedure. Two days after finishing it I ended up with the worst diarrhea and stomach pains l have ever had in my life.
I have just been diagnosed with a C. difficile infection after suffering for nearly two weeks. Unfortunately, it will take another antibiotic to cure me of this horrendous condition. I will NEVER take this drug again.
C. Diff is a Dangerous Clindamycin Side Effect:
A. As helpful as clindamycin can be against a wide range of serious infections, this drug can produce severe, or even life-threatening side effects. One of the worst is Clostridium difficile (C. diff) associated diarrhea (CDAD).
That's because this antibiotic can change the ecology of the colon and allow for overgrowth of C. diff bacteria. The FDA warns that because clindamycin can cause:
"severe colitis which may end fatally, it should be reserved for serious infections where less toxic antimicrobial agents are inappropriate…"
Dealing with C. Diff Infections:
Overcoming a C. diff infection can be challenging. Even after successful treatment with another antibiotic, recurrence is possible. In extreme cases, doctors may perform a fecal transplant to restore a healthy balance of intestinal bacteria.
Other Clindamycin Side Effects (from the FDA):
Digestive distress (nausea, vomiting, abdominal pain, colitis, esophagitis, diarrhea, C. diff infection)
Metallic taste
Skin rash (red bumps or patches, itching, potentially life-threatening skin reactions. Immediate attention necessary!)
Liver disorders (jaundice)
Possible kidney damage
Arthritis
Readers Share Stories About A Clindamycin Side Effect:
Kat in Texas shared this scary story:
"I was prescribed clindamycin for seven days for diverticulitis. I lost my appetite and became very depressed. My joints started aching. Then I developed a bad bout of diarrhea a couple of days after completing this course of medication.

"My doctor sent me to the ER where I was diagnosed with C. diff after I was admitted. I spent five days in a hospital isolation room. Two weeks after being released from the hospital I still have joint pain. My BM's are not completely normal yet, and I am still trying to get my strength back.

"I was told that if I ever have to be hospitalized again, I will be put in isolation because I have had this infection. I will never, ever take clindamycin again! According to my doctors (as I understand), this antibiotic depleted my body of good and bad bacteria, which made me susceptible to this potentially deadly (C. diff) bacterial infection."
Shane almost died from a C. diff infection:
"It's been 17 months since I've taken clindamycin. Last year I almost died from it. I developed C.diff. I reacted badly to the antibiotics prescribed to control C. diff.

"I had a fecal transplant. Even after the C. diff cleared up I am unable to eat anything without my stomach becoming hard and swollen. The pain is unbelievable. I have been to countless doctors who haven't the slightest idea what is going on I do know clindamycin caused the issues I now face.

"The reason why I'm posting is that I've seen many people take clindamycin without ill effects. Since we are all so different it's hard to determine who's going to get a clindamycin side effect and who won't. I'm not in favor of taking the drug off the market IF it's the only solution out there to solve DIFFICULT infections.

"In my case, I do not feel it should have been administered knowing that there were other drugs available with lesser consequences. There should be MORE EDUCATION provided to the doctors who prescribe clindamycin.

"It's been a very long journey which continues. What I've learned is that all of my physical problems have worsened by the use of clindamycin. I still have 'burnt' skin and I've lost the hair on my arms. I am so grateful to be alive."
It's Not All Diarrhea:
Rob in Oregon shared this tragic story:
"My brother was prescribed clindamycin, 2 x 300mg day for 7 days, to treat a small case of cellulitis on his thumb. He was 33, healthy. Initially he reported mild side effects.

"Day 4, he reported muscle weakness, fatigue, headache, terrible taste in his mouth, debilitating joint pain, night sweats, delirium/confusion, severe nausea. Doctor directed him to continue the drug despite the severity of the adverse effects."

"Day 5 he was dead."
S. also reported a life-threatening clindamycin side effect:
"I had severely altered QT interval with this drug. I couldn't incline or lie down for 2 weeks because my heart would stop beating. It was horrible. Also caused severe scary depression that isn't listed in side effects until you look for drug information online.

"I only took it for a few days. Did nothing for the sinus infection, and gave me severe wheezing and all over body pain. I am still having heart and major digestive problems a year later."
There is not much in the medical literature about clindamycin and life-threatening irregular heart beats. We did find this case report published in the American Journal of Cardiology (March 1, 1999). As far as we can tell, the FDA has not required any warning about heart rhythm problems.
Clindamycin Has A Place:
Some people have had such horrific experiences with clindamycin that they have called for the antibiotic to be banned. We agree with Shane, though. When someone is allergic to penicillin, clindamycin can be a life-saving drug. There are other infections that are so life-threatening that clindamycin is worth the risk. The FDA makes it clear that clindamycin should be reserved for serious infections "where less toxic antimicrobial agents are inappropriate."
You Can read about other clindamycin complications at this link.
https://www.peoplespharmacy.com/articles/clindamycin-sid/comment-page-35/#comments
There are over 1,000 comments with the above article. Share your own clindamycin story below in the comment section.